Discover more from Peerlist Blog
New features, company news, commentary around the professional network, career, and proof of work.
Over 17,000 subscribers
5 reasons why you should work in a startup
What you might learn in 2 years in a corporate job, you can quickly learn in less than a year in a startup.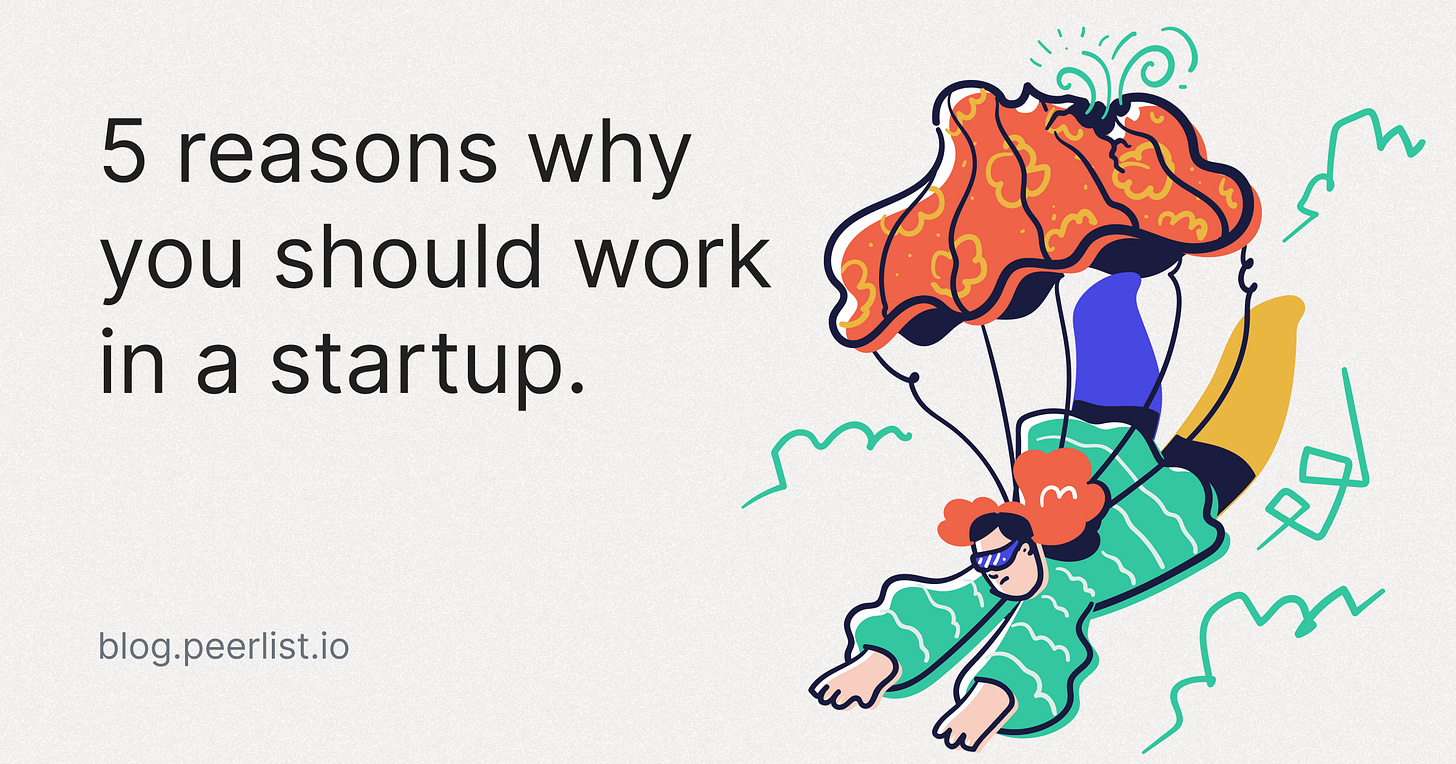 Over the last decade, too much has been said about startups, but rarely do people talk about the first-class startups - the time between 1909 to 1999. From Bakelite, The Ford Assembly Line to McDonald's, Walmart to Microsoft, Apple, and Google, they all started as a study to solve one problem and become worldwide accepted solutions.
Startups will always be a 'hot' topic since this generation has accepted startups with open hands - not only for collaboration but to become a vital part of the journey and, eventually, starting their own.
If you are one of those people who like to explore different roles aka like me, then I'd say a startup is almost a perfect fit. One more element you need to excel at a startup is the ability to take up the challenges. These two elements, and you are ready to join the startup.
But why should you work in a startup?
Why should everyone work in a startup?
There is nothing wrong with working in a traditional organization, MNC, etc. It's a personal choice. But there are things you would not be able to experience when you are in a corporate job, and that's what we will talk about today.
1. Getting access to the opportunities that you won't get otherwise
You will get access to the jobs that you are not qualified for. Hands-on learning is the best, and that's what you get in a startup. In a startup, you get assigned to the work you didn't sign up for, and that's how you grow. Because you wear different hats, you get faster in discarding what's not working and moving on to a better solution. Startups are fast-paced. So, what you might learn in 2 years in a corporate job, you can quickly learn in less than a year in a startup.
Since you are available and startups try to save the employment costs at the beginning level, you get to explore the roles that you want to explore but don't match the criteria to make it full-time.
You can learn more about how Yogini (a developer turned co-founder) wears many different hats daily to get work done, which she shared - From Side Project to Startup - things I learned in a year.
2. Joining a startup is an excellent gateway to starting your startup
At least 4% of the startups are founded by people between the ages of 18 to 29, data borrowed from Startup Statistics for 2021. Kids joining the startup at the beginning of their career becomes a factor in their added fuel to start their startup.
When you work closely with founders and see how the whole thing folds in front of your eyes - you learn a lot & see the gaps that particular startup is trying to fill.
You learn from the founders' mistakes, their plans, and executions. It helps you avoid making the same mistakes again and make new ones. You learn how difficult it is to survive in a startup ecosystem and learn how to cope with it.
Elon Musk explains what starting a business could feel like, and I quote,
"Starting a company is like eating a glass and staring into the abyss."
And that's what you learn when you work in a startup.
3. Maximize your speed of learning
You might get a task, not under your scope, and that's where learning starts. You find resources to find a solution, get bugs and then solve them, find some more problems, get stuck and even fail to make that feature work, or get that customer to sign up, but during the whole process, you maximize your speed. You do it fast because it is a startup.
One thing to remember is that-
"It's not the y-intercept that matters. It's really the slope that matters." - David Hsu.
What does it even mean?
It means how fast you learn is more important than how much you know. Usually, people emphasize too much how much they know and not enough on how fast they are learning.
Just another version of saying "be a life-long learner," and you adopt this mindset while working in a startup.
4. Ownership
Your contribution gets recognized. You get ownership of your work. There is little to no credit denial in startups which you will see a lot in corporate (telling you from my personal experience). You act before waiting for people to ask you. You know what needs to get done, and you do it, deliver almost on time. Your contributions are significant for startups.
When you join a startup with employees <20, your roles and contributions become critical for growth.
5. Almost no micromanagement
This is a little personal. Corporate jobs have long trails of emails to get one small task done and a lot more micromanagement. Micromanagement is only good when you start, not after working for months with the organization. Micromanagement leads to trust issues between the manager and team, which becomes a hurdle for smooth functioning.
Startups give you the freedom to work on the project on your own. The leadership style you learn from the Startup founder is unique and highly accepted.
Bonus #1
There are plenty of other reasons why you should work in a startup like -
Work culture: People are open to new ideas & approaches.

High-value equity: Joining a startup at a beginning stage might mean gaining equity when the company succeeds later.

You will learn how to make decisions quickly.

It will definitely accelerate your career.
Joining a startup has more pros than cons. I'd suggest working in a startup at least once - see if it's for you, learn a few things, build a few things, and enjoy the freedom to work on things how you want.