Discover more from Peerlist Blog
New features, company news, commentary around the professional network, career, and proof of work.
Over 17,000 subscribers
Applying for jobs but not getting interviews?
Here's why you might not be getting interviews even after applying for multiple jobs for freshers. Give it a read and know what you can do to change that.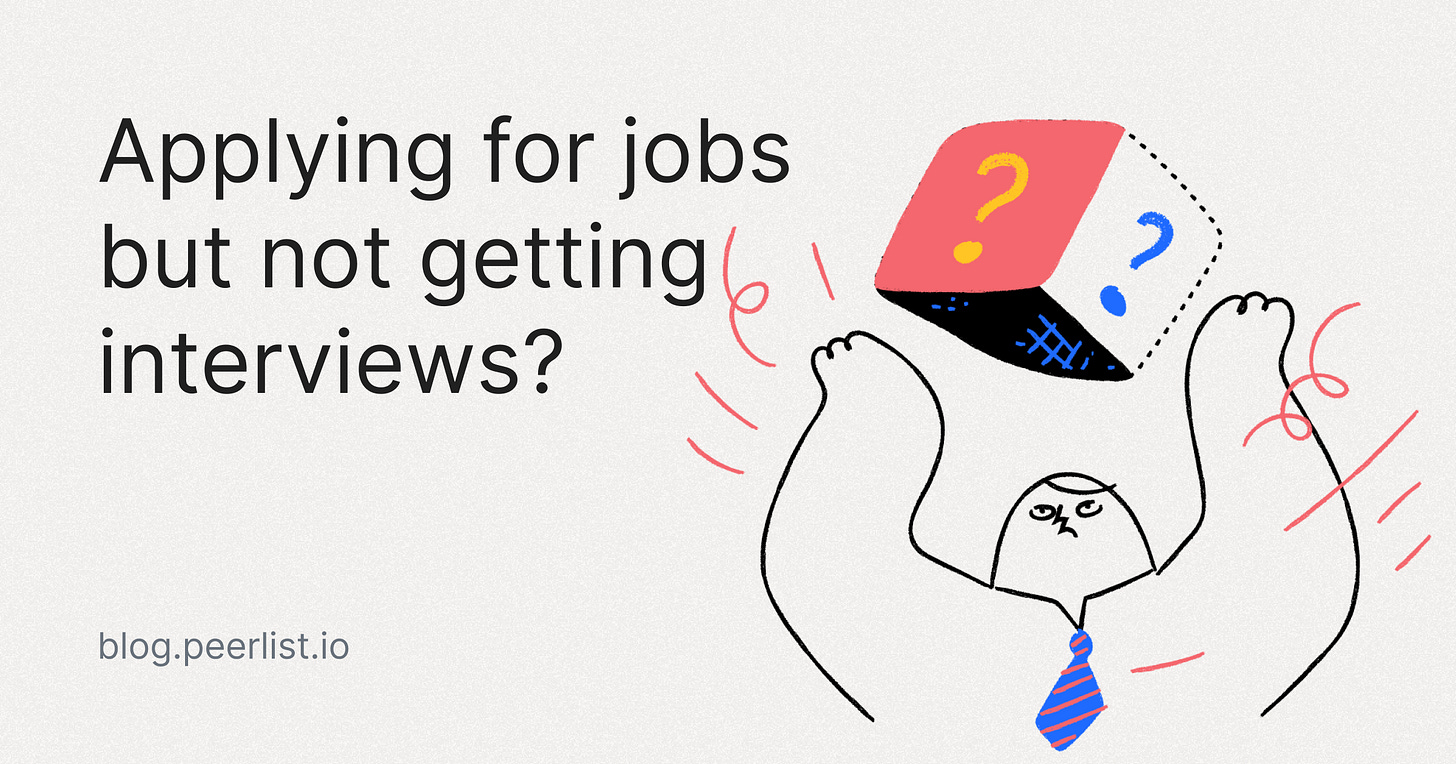 I have recently been talking to many students and freshers who are looking for full-time and internship opportunities, and all of them had the same question;
I am applying to many jobs for freshers but not getting interviews. What could be the problem?
The answer could differ from person to person, job to job, and company to company. But there are many common factors where you can work to increase your chances of getting an interview.
I understand and relate to how frustrating the job hunting process could be. Especially when you're a fresher and have no prior work experience on your resumé. This frustration could turn into desperation and make you do anything and everything to get that freaking first opportunity.
Let's do a little retrospect. See if you're doing the following things while applying to jobs.
Applying to 30-40 jobs a day.

Applying to the same job from multiple job boards.

Not reading the JD before applying.

Sending resumes to recruiters via DMs on different platforms.

Asking for a referral to the current employee without even knowing them.

Not asking for new opportunities in your own Network.

No side project. No case-studies. NO PROOF OF WORK!
Though my list is a little long, I will stop here. But if you could relate to any of the above points, continue reading. We need to get you that interview 💪!
Stop applying to 50 jobs a day.
I heard many folks saying they applied to, on average, 40-50 jobs daily. So I understand your strategy of spreading the net wider and wider. But "mostly" doesn't help in the case of job hunting.
The problem is that you are wasting your energy by submitting a low-quality application. Stop blindly going to job boards and click Apply buttons on all the jobs you see with similar job titles.
Instead, do this; apply to only 3 jobs a day, a maximum of 5. Spend a maximum of 2 hours per day on submitting applications. Partition those 2 hours into;
Finding the best suitable job opportunity.
Not mandatory to do this in those 2 hours only. You could come across new opportunities at any time of the day.

Quickly research the company, culture, team, and role you are applying for.

Try if you can find a mutual friend or peer in the company who can refer you. If not, skip to #5.

Ask for a referral, and make sure you know the person personally or professionally. People avoid referring to acquaintances unless there is a high referral bonus. It's a fact!

Modify your cover letter (have a template handy) and submit your application.
After reading this article, watch the following video on writing a cover letter.
One job. One application.
Don't apply to the same job from multiple job boards. Don't do that. Trust me. Ultimately, your applications go to the same ATS (Applicant Tracking System). And most of the time, these ATS filter outs duplicate applications. So it's a big waste of time.
Utilize your time wisely and invest it in doing the KYC 👇.
Do the KYC (Know Your Company).
This is the step most of us skip before applying for a job. Instead, most of us think that let the recruiter call me, then I will do the research on the company.
You should know about the company and its product/service before applying. Understand the market/domain of the company. Whether it's healthcare, fintech, edtech, eCommerce, or something else. This will help to optimize your application accordingly.
As a hiring manager of a fintech company would love to see if you have a tax or salary calculator as a side project. It's a solid signal to decide if they want to talk to you or not.
Read that Job Description. Please!
Pretty please. Don't apply for a job without reading the job description. Skimming through a job description will help you understand the hiring manager's expectations for the role you are applying to. For example, it doesn't make sense to apply for a job that needs 5 years of experience when you have just graduated from college. ATS will filter your application right away.
This is one of the most important reasons you might not be getting interviews. The criteria in JDs are there for a reason. Companies want a person with 5+ years of experience because they might train and promote them to manager/lead role shortly.
How do you feel when a recruiter reaches out to you for a role of frontend job while you're a designer? Yes, that's precisely what happens when you apply for an unsuitable position.
Sending resumes to recruiters via DMs.
This could be a good strategy if you know the recruiter personally or if they reached out to you to offer a role. But it has a low conversion. Instead, send a cold email directly to the hiring manager (not the recruiter). It has a higher probability of getting a response.
Understand that finding a job doesn't get tiring for you only; it's equally exhausting for recruiters to hire the best talent.
Your network is your lifeline.
Yes. This is where you should spread your net. Let the people from your Network know you're open to new opportunities. When I say people, they could be your friends from college, seniors, alumni, community from Twitter, etc. You can DM them and let them know you're looking for a job. I know many of you might shy away from doing this. But don't underestimate the power of asking!
I also want to add one important point here. When you ask for referral, make it as easy as possible for the person to refer you. Share the role you want to apply for, why you're a good fit, what you like about the company, and so on.
💡
I used to give them a small email template that they could copy+paste (or modify) and share with their recruiter or hiring manager. This removes the friction; they don't have to spend time assembling a referral email for you.
Build your Proof of Work!
For god's sake, build your proof of work! It's the most critical factor as a fresher to get an interview and lead to getting job. If you don't have past work experience, replace the Experience section on your resume with the Projects section. That's your work experience! Next, add a link to the demo, a case study, or a small write-up explaining how and why you build that project. Then, go one step further, record a video with Loom explaining your project, and attach the link.
Having proof of work on your profile conveys that you can build stuff. As a hiring manager, I get answers to many of my questions before talking to you. Hiring managers will invite and take your interview with a conviction of hiring you.
Don't add a project on your resume or Peerlist profile just for the sake of it. Sometimes it does more harm than benefit. I will write a separate article on this because I have so much to share.
---
Getting your first job is a life-turning experience. You might feel very uncomfortable going through this process, but this will make you a different person and a better professional. So, don't forget to enjoy this process.
If you have read it this far, I would love to hear your thoughts and experiences on this. Also, let me know if I should write more often about this topic. I am no expert, but I have opinions based on my learning while talking to many people about these topics.
😇
And last but not least, do join Peerlist if you haven't already. A Peerlist profile helps you showcase your proof of work in the most meaningful and efficient way.