EP01: The Mindset of Designer Turned CEO
Don't run after money; run after the good people - See what investors/teams are bringing to the table.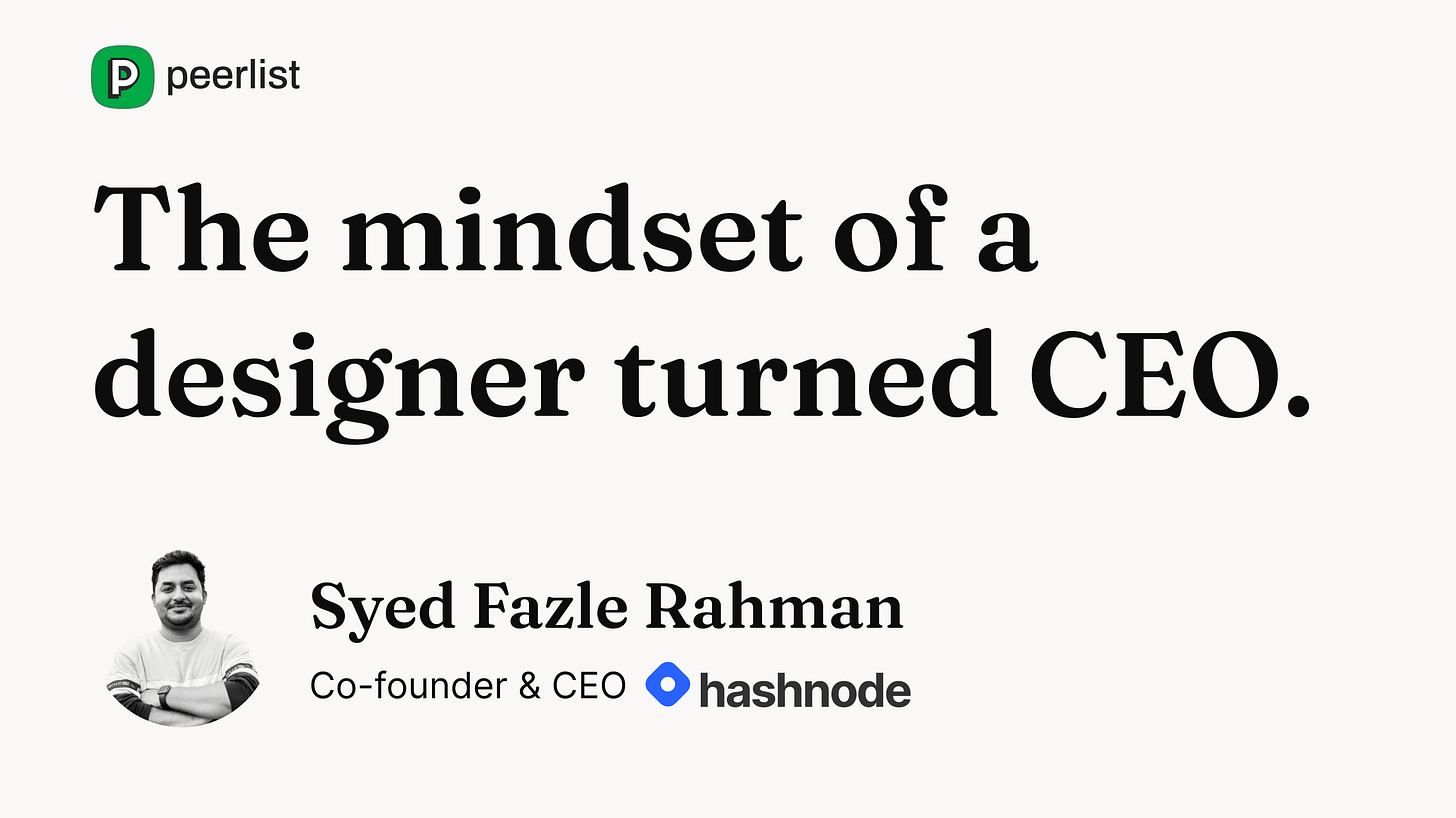 The year is 2019, and Syed Fazle Rahman and Sandeep Panda are going through the phase of doing something new and exciting. They decide to go back to writing, and that's when they see the gap between the writing platforms available and writing platforms they think should be available for better user experience - that's how Hashnode (the blog version) comes into the picture.
A few weeks ago, Fazle joined Yogini and Akash on the first episode of Peerlist Mindset.
Let's see the highlights from the episode, but before that, if you don't already know about the journey of Peerlist, go and check - Why are we building Peerlist?
Off-topic, but I get highly motivated by reading and listening to people talking about the products they have built from scratch.
Highlights - Why, What, and How
Asking a good question is a skill you develop over time, and networking is one of the critical skills that help in asking and answering.
Relatability to the user is one of the first steps to building a community, and that's how Hashnode got the name Hashnode.
It was a technical name.

Meant to be relatable to the tech community.
A name becomes a brand for the company; for instance, Facebook is now meta, but we can never see facebook as meta as ever. Why? Because of the relatability we feel with the word Facebook now. Most of us have used it at least once in our life, which left an impression on us.
Community plays a huge role, and that's how the episode started.
How to build such a massive community as Hashnode has?
Fazle pointed out some amazing points such as -
The product should speak for itself - Nothing can beat word of mouth.

Spend time on user experience - Writers find Hashnode easy to use.

SEO works better than one might expect - Hashnode's team spent years on SEO even when most people didn't know about it.
The user base of Hashnode motivated most of the startups, and that's what Akash found intrigued.
What helped Hashnode to get user acquisition?
Most people forget about one crucial part: analytics - working with the data. Numbers don't lie. And that's what helped Hashnode to understand what's working and how their users are interacting with the product.
While working on a startup (or even on any side project), people get demotivated because of the criticism. Sometimes, it is constructive, but many times, it's destructive.
Fazle pointed out how they (both the founders) handled the criticism.
They tried to differentiate it between constructive and destructive: A huge chunk of criticism is people noticing your product.

Decided to solve the users' query by writing blogs and doing a session to clear out what they stand for.
Does the number of team members matter while shipping a feature or product?
According to the co-founder of Hashnode, it does not matter because
Small teams help the Hashnode founders' clarity - for building a new feature and understanding what's lacking, what's working, etc.
Because Akash handles hiring at Peerlist (mostly) and Fazle handles it at Hashnode, it was fair for Akash to ask the next question.
What is the hiring philosophy that Hashnode's founders follow?
Hashnode founders follow simple rules such as -
Looking for hustler quality: The kind which takes risks and fails fast.

Own the feature (work) they have made: Owning helps the team gain confidence.

Being analytical.
What are the learnings after all these years in the startup ecosystem?
Fazle mentioned how important it is to celebrate small wins, but also one needs to keep grounded - to save themselves from getting carried away.
At the end of the day, retention matters for any product. Another learning is -

Hustle but have patience: Most freshers lack, but it is essential to have patience while building something that will be the next big thing.
As we know, Yogini is best at asking good questions, and she decided to pick Fazle's mind when the team of Hashnode gets any obstacle in their way.
What keeps folks at Hashnode kept going when things don't go according to plan?
Fazle was clear on the mentioned points -
Having realistic expectations - The feature might not go live on the estimated date, but you should always have a backup plan.

Give honest feedback to people working with you - The best way to get more done is to tell the team what is not working.

Do not give your team and users false impressions - Be transparent with them.

Take feedback from the team - Seek feedback from the team, users, potential users, etc.
Since Peerlist and Hashnode both have two founders, it leads us to the next exciting question.
How does a team of two founders solve conflicts regarding a feature or timeline?
Here both Fazle and Akash pointed out some valuable tips such as -
Writing down what's essential and what's not helps to solve the conflict.

As long as the decision favors the product and the users, it is almost always right.
Hashnode has always been global - most of us didn't know it was an Indian product. So how did they manage to keep it global during the initial days?
How did the founders of Hashnode manage to make it global?
At Hashnode, the team connects with the best product around the ecosystem and does their best to deliver the same quality - a good product.

Another thing that helped Hashnode during their initial days was their network, which they made during their freelance projects - check out how the network is your lifeline to learn more about networking skills.
For anyone starting with startups, Fazle gave some excellent inputs to give them direction.
Advice on anyone getting started with a startup during the initial days?
Work with the right set of folks.

Don't run after money; run after the good people - See what investors/teams are bringing to the table.

Take risks on good people.

Choose the right co-founder.
The last question is to understand better what worked for Hashnode and what did not.
If given a chance to build hashnode from scratch, what would Fazle not do, and what would he do?
Hashnode was slow at building a team, which Fazle would like to avoid.

Hashnode team always kept a good relationship with investors, and that's what they would like to do again.
Learnings:
Work with excellent folks.

Have patience.

Take risks.

Build networks and relationships.

Word of mouth is the best advertisement anyone can get.

Analytics matter a lot.

Be authentic to yourself - don't get lost in the superficial wins.