Discover more from Peerlist Blog
New features, company news, commentary around the professional network, career, and proof of work.
Over 17,000 subscribers
How To Start Freelancing With No Experience
To help you out with the beginning of your career as a freelancer, I have come back with a few tips & tricks.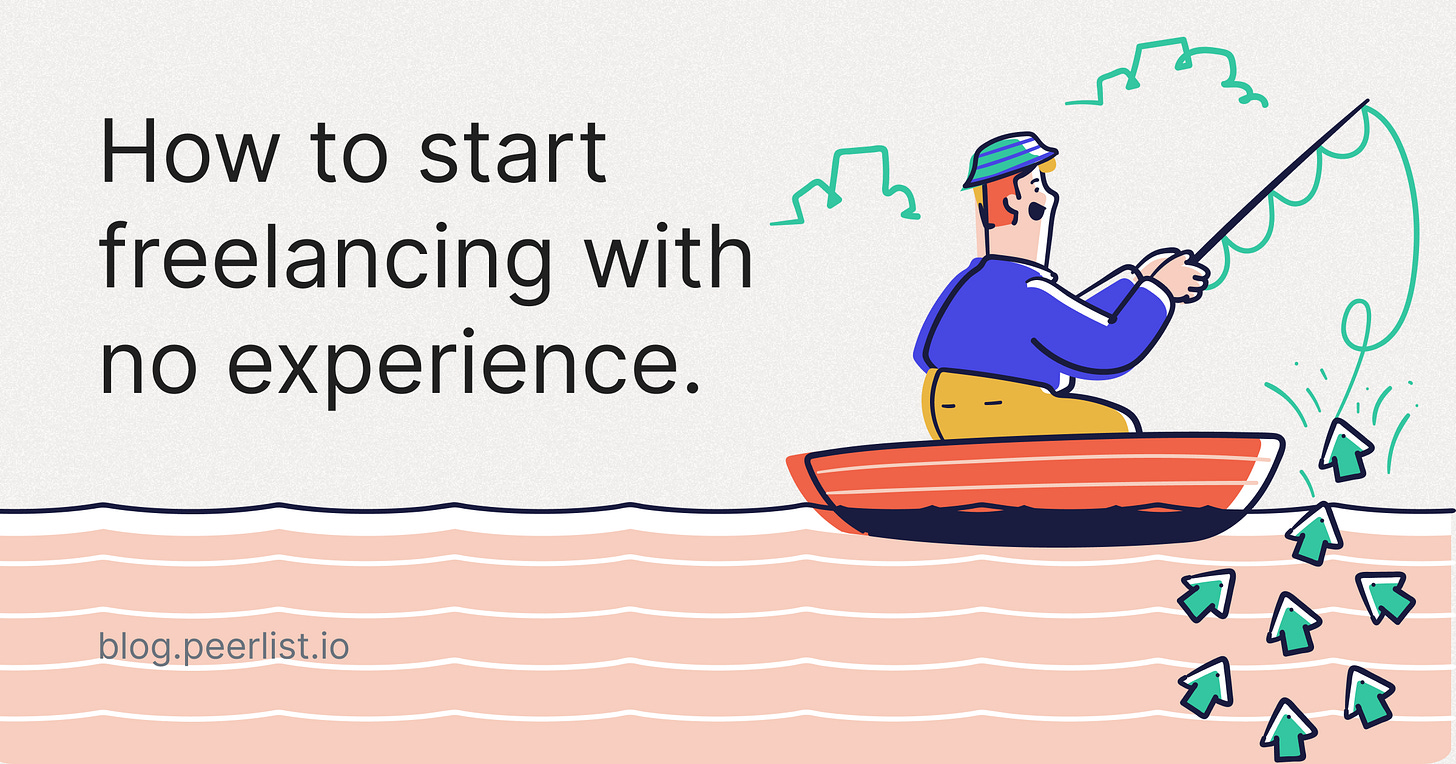 You listen to a song and move on. If you keep listening to it, then chances are you will get bored soon. The same thing happens with the ideas. If you keep thinking about the idea without taking any action, chances are it's always going to be an idea.
If you are having any ideas related to kick-starting your freelance career, then ask your fear to take a back seat.
Before starting anything new, we all go through some level of self-doubts. To help you out with the beginning of your career as a freelancer, I have come back with a few tips & tricks.
How to start a freelance business?
The most important thing before you start is to understand why you are doing it. And the second most important thing is to make a set of goals & give yourself a deadline of at least six months before you decide to move on to something new.
Now, you are finally ready to enter this new train, but before you enter the train, you need a ticket to show that you belong to that particular train. That ticket is your portfolio - a necessity to enter the train.
But how do you even make a portfolio?
There are many ways to make a portfolio such as -
Make sample projects by taking help from the internet.

Make edits to the existing projects to showcase what better you can do.

Make original projects.

Collaborate with your friends on a project.

Participate in competitions and use those projects as a sample.
Once you are clear with your niche, you will get niche-specific ways to build your portfolio. What you don't have to worry about is how you would showcase it - Peerlist has solved that problem for you.
Come with your projects and integrate them on your profile with a few clicks & you are all set.
You have the portfolio but there are some other tips you need to keep in the mind throughout the journey.
10 Tips for first-time freelancers:
1. Starting as a freelancer before quitting your job:
Betting on yourself is good, but a backup never hurts.
Having passive income before turning into an active income: Retaining clients takes time so, it's good to have some time on hand & some extra cash in your pocket.

Becoming efficient with your skills: Your workload & accountabilities will help you to be efficient with your work as well.

Having an option to say NO: You can choose what project you want to work on because money is not a constraint for you.

Having time to improve soft skills like negotiation & selling: You will be able to make fast mistakes and hence, learn fast.
2. Learn self-discipline:
You will be your boss so, make sure that you maintain discipline.
Being able to focus on one task is a needed skill to survive as a freelancer.

Setting your routine and sticking to it is the only tip & solution to having discipline.
3. Promoting your work & selling what you do:
Networking plays an important role here.
Be subtle about it but also make it obvious - You should represent what you stand for (professionally).

Leverage your social media presence to connect with people who might want your services.

Leverage your offline peers & get recommendations from them.
4. Learn to handle rejections:
You are going to get so many - just be ready.
Rejections become an important aspect of being a freelancer - Learn to cope with them by doing monthly reviews of your performance & compare your works from two different times.

Rejections don't mean that you don't know how to work, it simply means you are not the perfect fit for that particular project.

Move to a new project (& don't overthink) to overcome the rejection.
5. Never compromise with the quality:
The quality of your work is going to represent you in the industry, nothing else literally.
Make sure to check your work at least twice before you deliver it.

Be open to accepting your mistakes and making required changes whenever needed.
6. Be transparent with your clients:
Be upfront about the way you work & how much time you can provide.
Never overpromise - It makes you less reliable.

Never overload yourself with work - Keep the work within your limitations so that you can keep the reputation you are trying to build.
7. Know when you need help:
You might be struggling with workload, clients' behavior, or in a slump, understand that you might need some help.
Take a break & see what is going wrong.

Analyze your situation like you would analyze some friend's situation.

Open to accepting that you need help & even while accepting help.
8. Ask for help:
Asking for help goes without saying but not many can ask.
Understand that asking for help is better than wallowing in the problem.

Having a set of mentors who can show you direction & give real feedback is one of the important keys to success.
9. Don't consider yourself the next BMW:
BMW might not need an advertisement to get sold but you need to advertise your services, even when you are earning more than enough.
Reach out to people for new work - Write cold DMs.

Reach out to existing clients & ask them to recommend you to some of their acquaintances - or maybe just mention that you are open to more work.
10. Outsource when needed:
You got more workload from your full-time job but you can't also ditch existing clients that's where outsourcing comes into the picture.
Be open to the idea of outsourcing.

Hire the best & get the best quality work for your client.

Edit the work and make required changes and pay fairly.
You are ready with all the preparations but to be a freelancer, you need a client. Let's see how you can find a client.
How to find potential clients?
There are many channels you can use for finding potential clients, let's go through all of them.
Online Sources:
List & get introduced to the agencies globally.

Get active on all the job boards & communities - network with fellow freelancers.

Use Facebook, LinkedIn & Twitter efficiently, all of the platforms have a lot of potential - Reach out to people posting different jobs on all of the platforms.

Make your online presence a mirror of what you want to convey to your potential client.
Offline Sources:
Ask friends for referrals & recommendations - ask for help whenever needed.

Remember word of mouth is still the best marketing one can get.

Be available for working even on a small project.

Go to meetups & network with people from all the different fields.

Follow this one rule: Be interesting or be interested - Be interesting so that people reach out to you or be interested so that people include you in important conversations.
Don't quit and take breaks and you will do just fine. All the best!!