Discover more from Peerlist Blog
New features, company news, commentary around the professional network, career, and proof of work.
Over 17,000 subscribers
How we nailed our Product Hunt launch
Our experience, learnings, and outcomes after launching Peerlist on Product Hunt.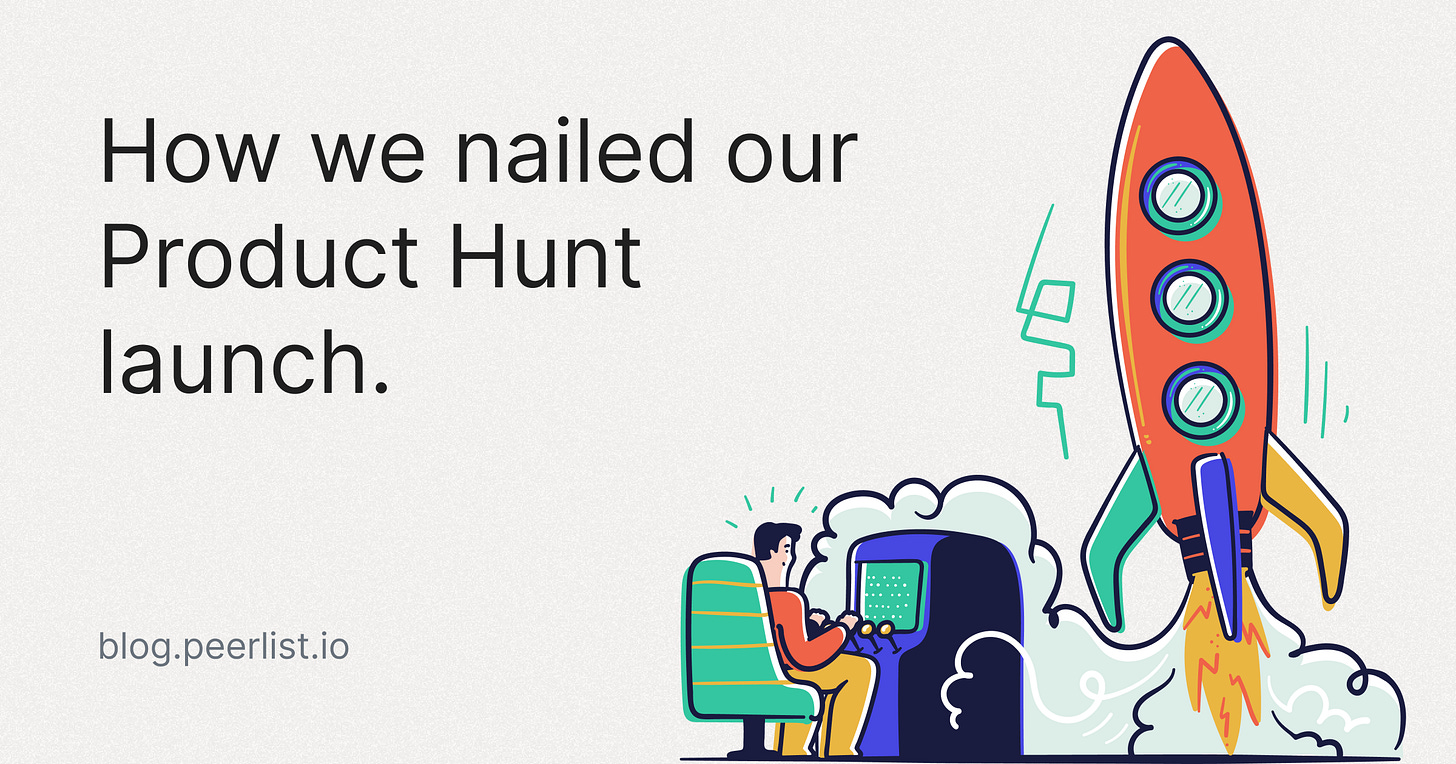 We had a fantastic Product Hunt launch in May, bringing us many good things. But, most importantly, it accelerated our growth as founders, builders, and marketers. Many of you had asked about this launch's planning, process, execution, and outcome, so here it is!
Before we begin, I want to clarify that this is not a "how to guide" or a formula for a successful Product Hunt launch. I am just sharing how we did it; you can pick the things with your conscience.
Before we begin, let me glance you through:
How was our launch day?
We woke up at 6 am on the launch day. Double-checked everything. Gave a couple of more production deployments. Make sure all the 3rd party services we're using are working. Checked if we have enough credits/bills paid for them. This might sound funny, but it's essential.
At 12:33 PM IST (12:03 AM PT), we were live on Product Hunt, our scheduled emails got triggered, and tweets and posts were live. Peerlist launched on Product Hunt!
I can't thank enough our Super Peers for taking this launch to another level. We got more than 500 upvotes and 100+ feedback comments in the first 2 hours. It was a moment! Yogini and I celebrated it with a high-five. Damn, that girl is strong; I still remember how badly my hand hurt after that 😹! Things were working the way we planned and expected.
By evening, someone sent a screenshot of Product Hunt's daily newsletter, and Peerlist was featured with the title Competing against LinkedIn! This was epic and another dose of adrenaline rush.
Yogini and I were glued to our screens the whole day and night during the launch. It was exhausting! At 3:00 AM (16 hours after launch), Product Hunt removed 200 upvotes and some reviews from the stats. Our total upvote count was less than the product at #2. It was disappointing, and we thought we wouldn't be able to maintain the #1 position. We went to bed, dispirited.
We received a call from Vishwesh (our angel investor) somewhere at 6:00 AM, and he told us that product #2 also lost upvotes, and Peerlist is still product #1. This was just great! Product Hunt's algorithm was playing with our emotions 😺.
At 12:30 PM IST, the launch window was closed, and Peerlist stayed Product of the Day without losing a spot even for a minute 😻!
Later that week, Peerlist was also featured in Product Hunt's weekly newsletter. The newsletter was dedicated to how Peerlist is rethinking professional networking.
---
Now, let's dig deep into this exclusive launch.
Why launch on Product Hunt?
Because it's one of the biggest platforms to launch your product, irrespective of size and stage, it has a very niche audience of product enthusiasts who are there to discover and try interesting products before anyone. These are the early adopters. Who plays a vital role in early feedback for a product like Peerlist!
You should launch on Product Hunt for two reasons: Product discovery and feedback. And that was the exact objective of us when we launched.
A little background
I, Yogini, and Sharath (who hunted Peerlist for us) had a conversation in November last year where Sharath had explicitly asked us to launch Peerlist on Product Hunt as soon as possible. He, of course, had his rationale for it. But we thought we needed to iron out a few bugs and stabilize the product before we launched it to a large audience.
We removed our invite-only beta in March and transitioned into public beta. By this time, Peerlist was relatively stable and was performing well from the engineering side, and the user growth was exponential. So by mid-May, we realized we could do a Product Hunt launch confidently!
To do a launch, we wanted to understand the sentiments of our audience and community about the launch. So I tweeted this:
The response to this tweet was terrific, and we started planning for the launch.
---
Pre-launch
What were the success metrics?
We first had to decide what things we should measure, which would conclude the success/failure of this launch. Measuring the outcomes of your decisions and actions is very important. The success metrics we defined were straightforward:
500+ upvotes and 100 feedback in the first 3 hours of launch

2000+ new user signups.

The Maximum number of people should know about Peerlist across the globe. We could not measure this in numbers, though.
How did we decide the "timing" of the launch?
If you need more exposure, then launch on Tuesday and Wednesday. These are the high traffic days, but you will have very high competition too. If you only want to be the #1 product of the day and get the badge, you can choose any other day, preferably the weekend: low traffic and low competition.
Our objective was evident; we wanted more people to know about Peerlist, visit the website and eventually create their Peerlist profile.
I talked to Sharath, and he agreed to hunt Peerlist right away. We decided to launch on Tuesday, 24th May. Exactly 8 days after my tweet. Yes, things should move fast!!
What was our launch plan and strategy?
Our launch plan was straightforward and divided into three parts— pre-launch, launch, and post-launch. And we planned accordingly.
The first and most important thing is the announcement, reaching out to the maximum audience and keeping up the momentum till the launch day. You don't want your audience to forget about the launch. So we decided to announce it seven days before and share the countdown posts on social media.
We also had ready all our marketing creatives for social media posts and emails. Here's my Figma file 😻 and you can download those illustrations from here for free.
One most important thing which helped us was that we had all our tweets, posts, and emails scheduled. It was crucial because only Yogini and I were actively taking care of this launch (but we were wrong, many Super Peers contributed to this launch significantly). And we did not want to miss anything on launch day or worry about it.
The Product Hunt home page reset at midnight at 12:00 pacific time. Scheduled your product around that time to take advantage complete 24-hour window.
So, here's the pre-launch checklist:
Create your marketing material. This should include your PH product page images, social media header and post images, etc.

Write and schedule all the social media posts and emails. This includes announcements, countdowns, reminders, etc.

Your friends and community are unique; let them know you will launch. Do it personally before announcing it to everyone. We have a small, focused group on Discord called Super Peers. They get to know everything we do before others.

We also reached out to our investors and asked them to help us to spread the word in their network.
In short, rally your community around the launch.
How did we create excitement around the launch?
We announced the launch precisely 7 days before all Peerlist users via email. Followed by social media posts. All of this was announced at the same time.
We asked our community to spread the word. I also wrote a simple social share document and shared it with a few people. We made sure we would keep everyone updated with the launch. This is followed by countdown posts on Twitter and LinkedIn every morning for the next 7 days.
While doing this, avoid annoying your users by sending too many emails. We sent a few— one announcement email, one reminder email, and when we hit milestones of 500 and 1k upvote milestones on the launch day to keep up the momentum.
My simple advice to create the excitement around your launch: genuinely communicate with your audience! Make them part of this event.
---
The Launch
As I mentioned, the launch goes live at 12:00 AM PT which is 12:30 PM IST. As soon as we were live, the email was sent to all Peerlist users, and social media posts were live. The launch begins!
Keep your community updated with the results.
It's essential to keep your community engaged with the outcome of this launch. As I mentioned, we decided to send the milestone email once we reached 500+ upvotes and 120+ feedback comments and became the number 1 product of the day. We did not expect it to happen only in the first 2 hours!
But we hold to share this update with our users via email for the evening. So that we can spread these exciting triggers over the period of 24 hours. Also, back-to-back two emails in the span of two hours is not a good idea.
Here's that email. We already had all the content in a notion doc.
Keep tracking the success metrics.
We already had success metrics defined, and keeping track of it during the launch is essential. We started getting an exponential number of signups and visits after the day started in the US. A good chunk of traffic on PH is from the US, so we expected this.
We were on top of the PH home page. The surge in traffic was massive; more than 1000 users visited in the span of 1 hour, which continued for the next ~4 hours. Yogini was constantly observing the server to avoid any downtime. I want to take this opportunity to thank the people at Railway app, who assured us that they would make sure we won't face any downtime. And we did not! This was an excellent sign that our infrastructure could handle the pressure. We tick one success metric!
We were still the number 1 product of the day with more than a thousand upvotes and 300+ feedback comments. Another success metric ticked!
At one point, we had more than 1300 upvotes, but I think it's PH's algorithm that removes some of that based on their internal rules. We had less upvote count than the product on number two at one point. This proves that the number of upvotes doesn't add much value to the number 1 product. There are multiple factors involved. I don't know which they are :(
---
Post Launch
Measure the outcome - compare it with your success metric.
We already had success metrics defined. If we measure the outcome with that, this is how it looks.
#1 product of the day with 1100+ upvotes, 300+ comments
We started strong because our community and super peers supported us strongly with this launch.
We had 2073 new people joining Peerlist in 24 hours of launch.
The last one was: Maximum number of people who should know about Peerlist globally. We could not measure this in numbers, but we got noticed by notable folks from the industry.
How do you decide the success/failure of the launch?
Your Product Hunt launch or any other launch will always be a success! Because you will have more than what you had before the launch. It could be a different number, learnings, new connections, etc.
Number-wise, the launch was super successful! But we nailed a few other things as well,
Peerlist worked the way we expected. No downtime, no glitch, nothing.

We learned some flaws in a few workflows, which we rectified immediately in the next release.

We got reached out by some noteworthy people to extend their support.

The amount of feedback and learning is priceless!
3 crucial lessons we learned:
Have a "strategic plan" for your launch. It helps significantly. Makes things efficient.

Don't shy away from asking people to support your launch. People are kind.

Define and measure the success metrics. You can't manage what you can't measure.
---
On a closing note, we can still feel the thrill when we look back at this launch. Product Hunt works best when you are a tiny team to give you the correct exposure, and we achieved that. As a team, this launch boosted our confidence, motivated us to work hard, and taught us the power of "Community."
Thank you so much for reading so far. If you're launching on Product Hunt and have questions, you can reach out to Yogini or me. Our DMs are always open. 😊