Discover more from Peerlist Blog
New features, company news, commentary around the professional network, career, and proof of work.
Over 17,000 subscribers
Introducing Project Spotlight
We started Peerlist as a small project in 2021 and it became a startup that raised $1.1M in 2022. So I think it's safe to say that we understand the significance of building side projects! To encourage the execution of ideas and building side projects we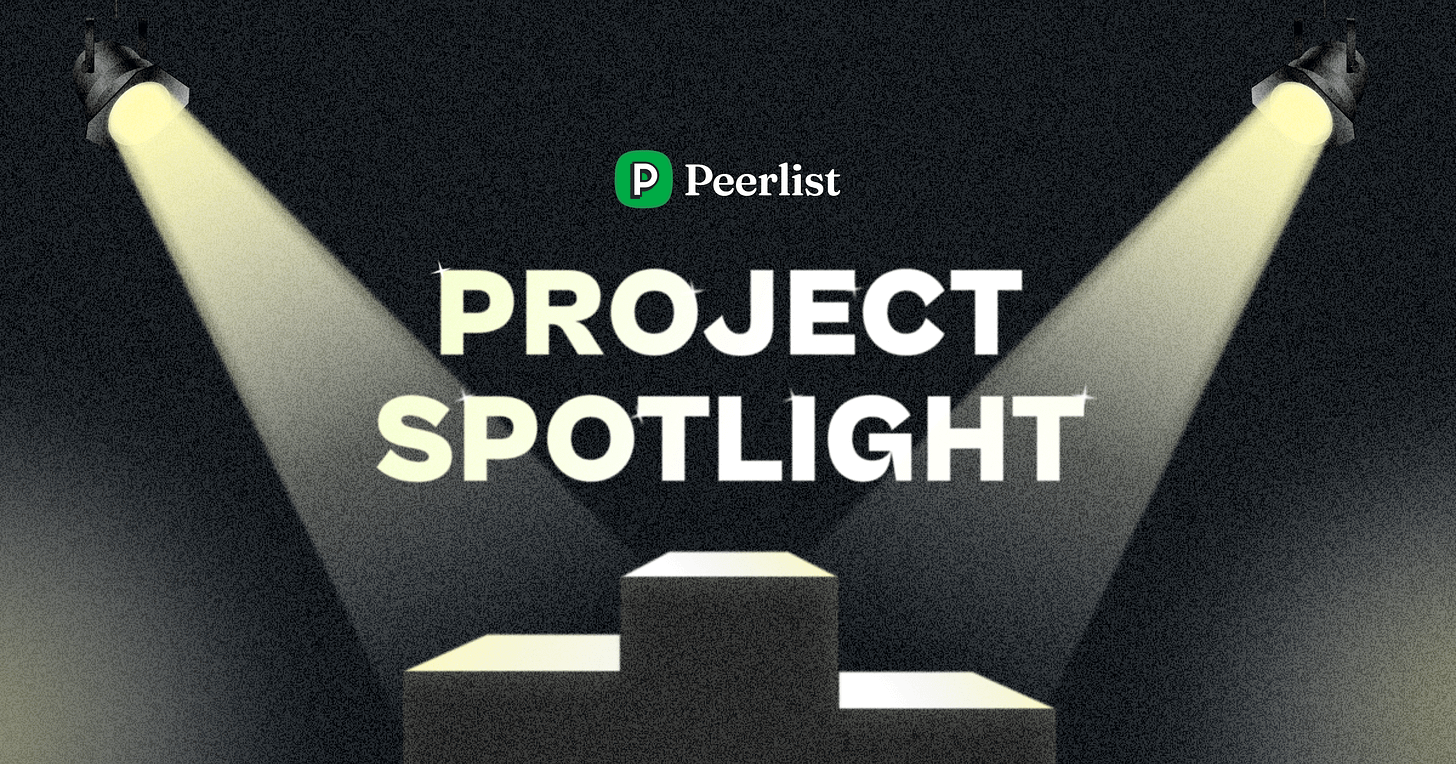 What is Project Spotlight?
Project Spotlight is designed to showcase innovative and impactful side projects to a wide audience. It provides a unique opportunity for you to share your work with peers, receive valuable feedback, and potentially gain recognition for your efforts.
Why Participate?
Participating in Project Spotlight not only provides you an opportunity for recognition but also fosters a sense of community and collaboration. By sharing your projects and receiving feedback from peers, you can improve your work and potentially collaborate with others on future projects.
The winners will be featured in Peerlist's monthly newsletter and social media channels, providing valuable exposure to the creators. Additionally, the winners will receive a special badge for their projects, showcasing their achievements and potentially attracting new opportunities.
Who can Participate?
Project Spotlight is open to individuals and teams from all backgrounds and domains, including but not limited to tech and design. Whether you're a seasoned professional or just starting out, this competition provides a platform to showcase your work and potentially gain recognition for your efforts.
How to Participate?
You simply need to submit your project on Peerlist. Following the guidelines is a must. At the end of the month, the winners will be decided on the basis of upvotes and a simple ranking system.
But I don't have any Projects!
Well, that's ok. Though Projects Spotlight is a way to showcase the execution of ideas; it is also a source of discovering new ideas and inspiration to build (or complete 😉) your side project!
You can even collaborate with builders or maybe hire them for a new opportunity at your organization. There are limitless possibilities!
---
For the month of March, projects are curated by the Peerlist team from the existing projects; added by members to their Peerlist profiles. For April, you will be able to submit your project yourself to participate.
For more details, please read the FAQs and guidelines for builders and the community.
---
What are you waiting for, visit Project Spotlight, discover, and show some love by supporting your favorite projects and builders!