Discover more from Peerlist Blog
New features, company news, commentary around the professional network, career, and proof of work.
Over 17,000 subscribers
MBA - What, Why, and How
If you are looking for a path to gain more insights regarding businesses and startups, and build a network, then MBA can be your path.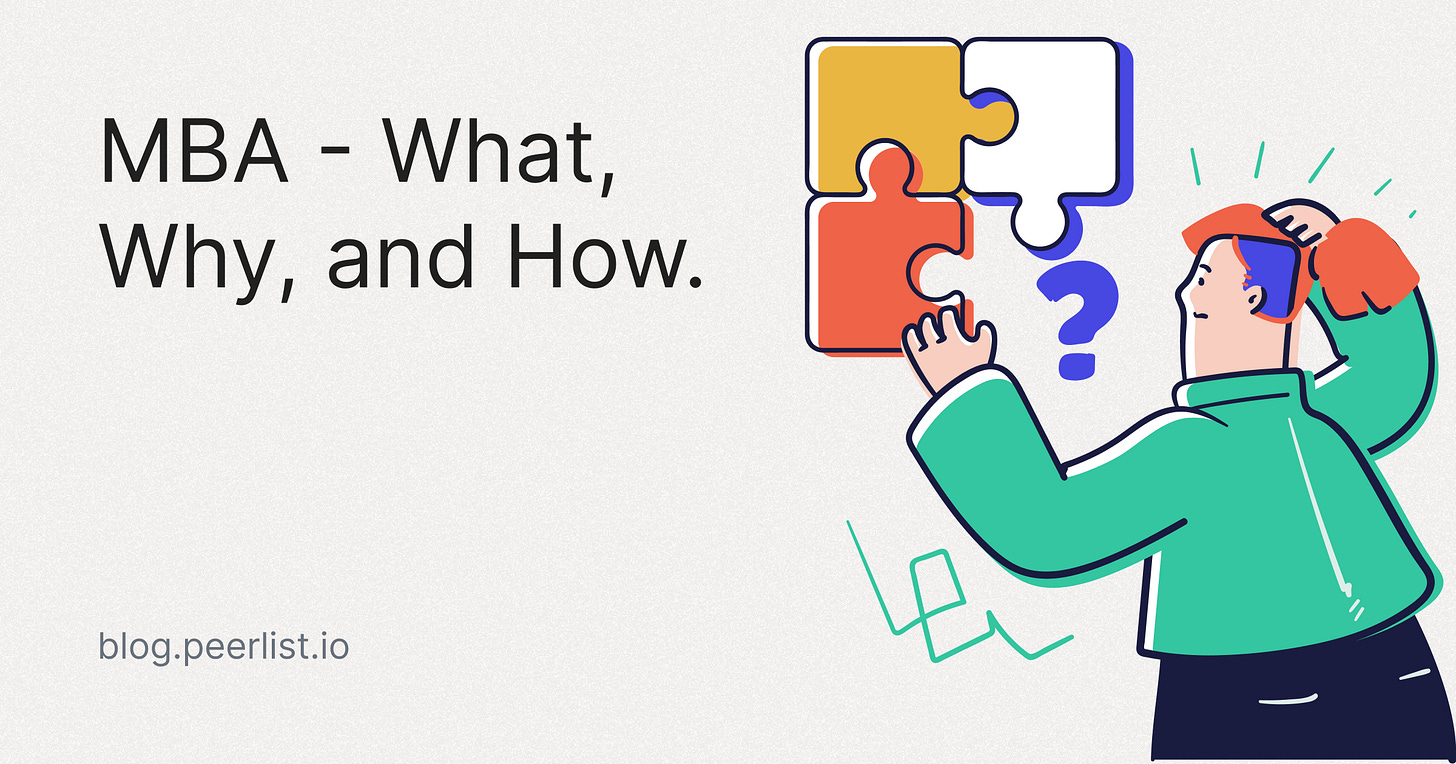 What I have been seeing for the last few months, actually cut that, for the last few years, almost everyone I know and am acquainted with online or offline either is doing an MBA or wants to do an MBA. I mean I'm one of them, so I might be getting connected with those people only. Confirmation bias is the real thing.
But because taking admission to an MBA is a big deal and I have a tendency to make an excel sheet (and google doc) before making an important decision where I list all the pros and cons and see what my financial sheet wants me to do - don't wanna be a broke MBA student, you folks.
So finally, I'm here to tell you all about the MBA.
What is an MBA and Who is it for?
MBA is a generalist degree. Students from diverse fields choose to do an MBA for various reasons. According to stats from 2021, 76% of students were engineers grad - it is the "go-to" option for everyone but engineers, it's the time when they basically decide what's the direction when they wanna choose, more likely where they question why they do engineering - heard from the sources.
MBA stands for Masters in Business Administration. The degree not only provides you with the knowledge needed to understand business but also the opportunity to connect with people from all diverse fields. So, basically, the time when you can go out with people who are not engineers but writers, doctors, etc.
Off-topic but from one of the ISB batches, 22 students found their life partners (read got married to someone) from their class.
MBA does wonders for people, it seems. The tagline could be - Are you single? Ready to mingle? Join ISB. Jokes apart, MBA is a good option for networking, building connections, making friends, etc.
MBA existed for people from finance/accounting backgrounds however it has grown to be a way for everyone. There is no typical eligibility for an MBA other than entrance exams. In short, anyone can do an MBA if they are willing to do but should you do it? That's the question I am here to answer.
Let's get some information about MBA first.
What are the types of MBA?
MBA comes in all shapes and designs with the traditional and popular full-time program.
Full-time MBA - The original MBA with on-campus experience, designed for recent graduates so mostly needing no working experience and providing a 2-year program to get a hand on different subjects and a window to experiment by providing opportunities for internships.

Part-time MBA - This is the first MBA made available for working professionals to gain a different perspective, and learn more about the business side while keeping their jobs.

Executive MBA - This is targeted at experienced professionals having at least 8-10 years. The environment setup for this MBA provides professional projects in a classroom to upskill the network. Professors are senior leaders from their perspective field. This is a fun MBA for people wanting to switch fields after years of experience.

Online MBA - This MBA is available for students wanting to do post-grad from the comfort of their homes and wanna do it on their schedules. Modules are designed in that way only.

Distance MBA - This is targeted at professionals having experience of at least 2-3 years and wanting to pursue studies on the weekends while keeping their jobs.

1- year MBA - This is comparatively new and got popular in no time because of the duration of the program. A typical student joining 1-year MBA has at least one year of experience.
What MBA should you choose?
It depends on various factors such as:
Who are you?
Are you a working professional wanting to keep your job?

Are you a recent graduate?

Are you willing to put time and energy into one place and quitting your job is the option you can go for, etc?
It tells what advantages and disadvantages you are gonna have while opting for an MBA.
What early choices you have made in your career?
Are you an engineer, a commerce grad, have done some professional degrees, etc?
Where do you think MBA fits your future goal?
Do you already know what you wanna do in the future?

Are you opting MBA as an experiment?
Why do you wanna do it?
It will tell how serious you are with your decision.
What is your financial condition telling you to do?
It's really important to understand where you lie in handling the expenses.
The next part is gonna be about all the pros that push one to do an MBA.
Pros of MBA
MBA done after 2-3 years of experience helps in understanding what are the parts of doing and understanding a business you lack in. It's important to work on your weaknesses if you wanna grow in the business industry not to make it the strength but to be able to work in the whole ecosystem.

MBA provides you with fundamentals.

Professionals having MBA degrees are more structured.

MBA guides how to think like a businessman and behave in a situation.

MBA helps in gaining self-confidence.

The exposure that comes with MBA opens a lot of doors that didn't even exist before.

Students might not get direct placement but alumni and robust network made during that period stays with them for a long.

It's kind of a trial and run before the real business.

Helps in building a heterogenous skillset.

The most important thing to keep in mind is to do an MBA from a reputed university because networking is the BEST output you can get from the degree.
Cons of MBA
Mostly for working professionals :
Once you start working, it takes a different determination to go back to your studies.

According to 2019 stats, only 7% of MBAs get placement.

MBA doesn't only need 1-2 years of admission and tuition fees but one needs to understand the amount of money they are not making/investing what they would have made if they worked for that year.
It is a sum of tuition fees, one year's salary, and the investments that one must have made. It's important to understand when to go for MBA. Timing becomes the most important factor here.
Is MBA worth it?
Now, this is going to be my opinion. Yes, it is.
If you are an introvert, then go for MBA.

If you don't enjoy the technical side of your jobs, go for an MBA.

If you want to understand the fundamentals of your job, go for an MBA.

If you want to build a network, go for an MBA.

If you want to start your own business, go for an MBA.

If you want to explore other options, go for an MBA.
The thing to keep in mind while opting for an MBA is to understand your WHY and how strong and clear it is.
MBA from abroad
An MBA from abroad is a nice option if you are capable enough to pay for it. Loans and scholarships are available and yes, degrees done from some abroad universities might be more recognized but it all depends on a personal choice and plans.