Discover more from Peerlist Blog
New features, company news, commentary around the professional network, career, and proof of work.
Over 17,000 subscribers
Negotiating your first salary
The interview went satisfying, but the salary package has got you worried. We are here with tips on how you should negotiate your first salary.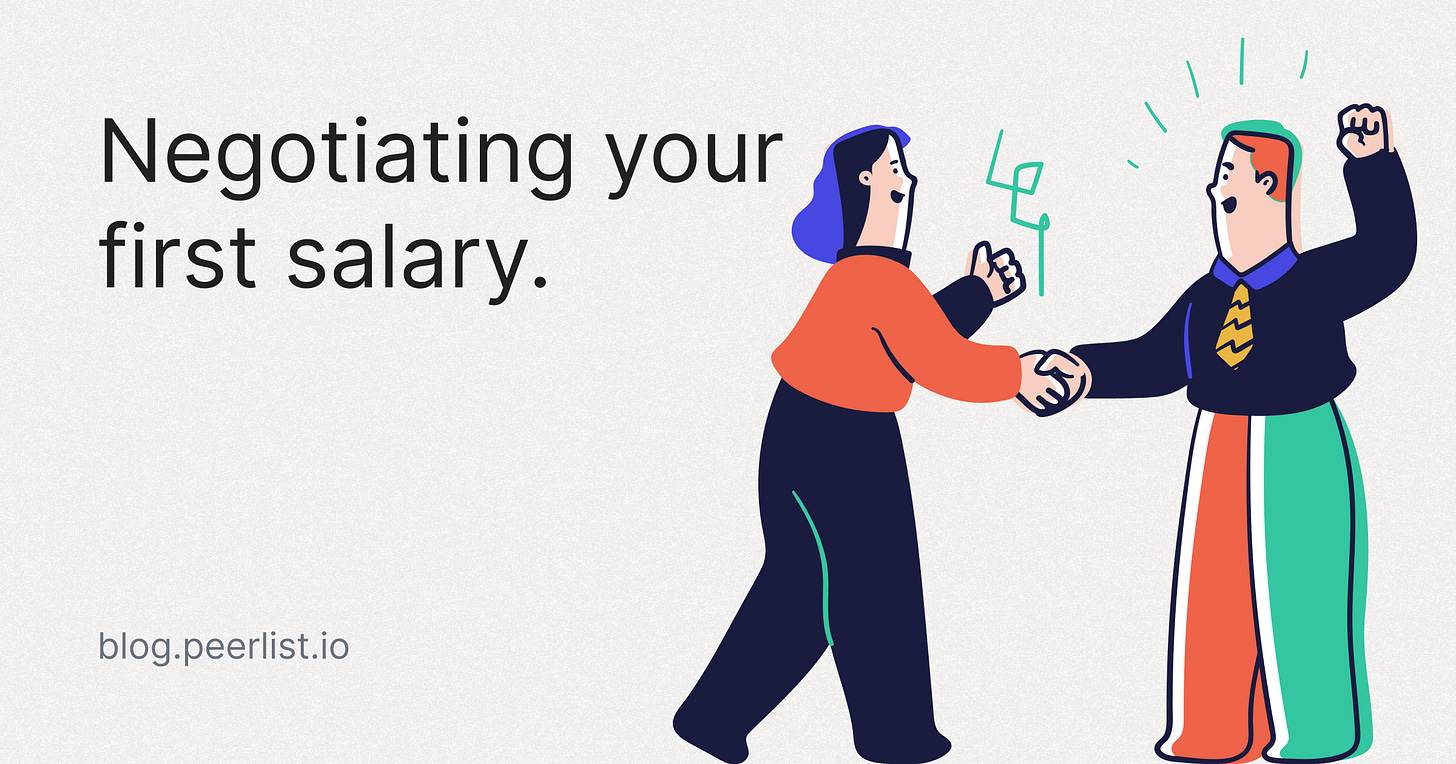 Did you read the title right? Oh yes, we are going to talk about one of the most important stuff that motivates you, me, and all of us to work a little harder. An organization and its employees need to have a sense of satisfaction.
Employees feel satisfied with what they are getting rightly paid and the organization is satisfied that at least, money is not something the employee is focusing (or fixating) on.
What I have been seeing in freshers (and have experienced firsthand) is candidates are scared to negotiate for different reasons like scared to lose an opportunity, don't want to look rude or money-minded, etc.
Let's understand why it is important for you to negotiate your salary before accepting any offer.
Why Negotiation?
As fresher, most of the candidates opt for the brand name and don't even think of negotiation because apparently, money should not be a priority.
Let's bust some myths first before we dive into why it is important to negotiate.
Experience matters, not salary - Both matter equally. You can work with less salary is your choice but shouldn't be a norm.

You can always ask later - No, you can not. If there was no discussion related to salary before the joining, then expecting a conversation later is not sensible.

Offering to work for a lower salary won't give you the job - If an organization is looking for an efficient candidate, salary becomes secondary mostly. What they need is the attitude and confidence in the candidate that they can be the best fit for the role.
Now, let's understand why negotiation is important.
Negotiation is perfectly normal and derived from research showing how competent you are.

70% of hiring managers expect candidates to negotiate their salary and benefits - the result of Robert Half's online U.S. survey.

It helps you to build self-confidence that will help you while doing the job.

It's the way your employer shows that they appreciate your work and value the time that you putting in and your skills are indeed good.

Salary is one of the parts which helps in work-life balance.

Negotiation is a skill that helps a long way.
So, now, you know why you should negotiate your salary but it gets difficult for freshers, so, let's understand the steps to be taken to negotiate your first salary.
Tips to negotiate your first salary
Skills can be learned and that's why we are here - to learn a skill of negotiation and rock the next chance we get.
Negotiation for any kind of role requires similar steps which are:
Research:
Research the company's salary range.

Research about the salary that particular get.

Do primary research - talk to friends, etc to understand the range.

Talk to someone who has been working in the same role in a different organization.
Once you know what's the salary range for that particular role, move on to step 2.
Understand your market value:
List your skills, strengths, and weaknesses.

See if your strengths align with the skills needed for the role.

Understand what you can give to the role that others can not.
Once you know your worth, you can move forward with confidence.
Always let your employer make the offer:
This is important. Let the employer tell you their range and then show them the whole research and your valid inputs with the salary range you think you deserve.
Ask questions: For example, how much do you think my skills are worth?
Let the employer answer and give your counterpoints based on the response.

Understand why an employer is reluctant to increase the salary range.
Schedule a meeting for discussion only:
Choose call or in-person conversation over email - it's easy and allows both parties to communicate well.

Schedule the call after 48 hours of the offer.

Try to be respectable and clear with your input.
Postpone the salary discussion for the end:
You want to be the only possible candidate they should hire.

Everything is already done, so, it gets easy to talk and you can be more comfortable.
Always ask for a higher amount so that even if negotiation happens further, you still get the desired salary.
Let's talk about some behavioral tips to get ready for negotiation.
Be confident:
It's important to come up with your top game. Be so sure about your skills and strength and about the salary range that even the hiring managers pause for a moment to change their minds.
Plan your pitch:
Planning is essential. Approach with the strategy to not get stuck in the loop of 'should I say this or am I being rude'.
Prepare yourself for tough questions:
Be honest and confident and handle the conversation according to the questions they ask.

You are challenging an aspect so it's normal for them to revert.
Lead the conversation gracefully:
Your choices might not align but always keep your professionalism and your attitude in check.

Be respectful and thankful for the opportunity.
Rehearse your pitch:
Rehearse with friends or family and see where you are lacking.

You can try recording yourself or talking to yourself in the mirror too for a better understanding of your gestures and expressions.
Last but not least, be comfortable and positive throughout the conversation. If the conversation is giving positive vibes, then you have won half of the war already - learned from Akash.
Also, if you know you are worth more than what they are offering, be ready to walk away. Never sell yourself short in the name of "opportunity".
That's it from my end. If you have some more points which helped you negotiate your salary or have some interesting experiences to share, you know where to find us!
Also, do check out Peerlist, it's a community-led professional network for people in tech with robust work profiles at its core.