Discover more from Peerlist Blog
New features, company news, commentary around the professional network, career, and proof of work.
Over 17,000 subscribers
Peerlist December Release • 12.2021
Calendly integration, dynamic social preview image, reordering portfolio sections, Peerlist search and much more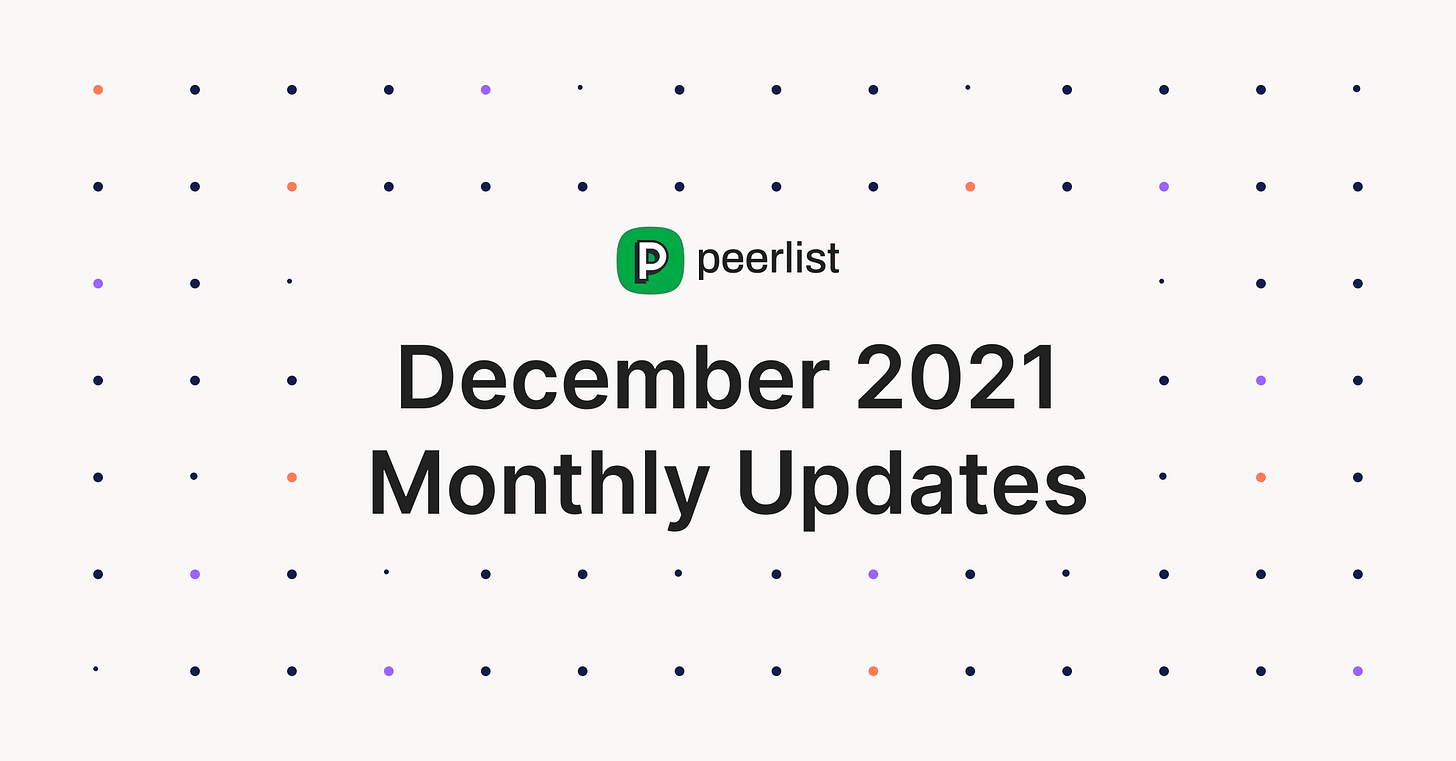 Here is our last changelog of this year, and we wanted to make the most of it. Before moving, we wish you a very, very happy new year in advance! 2021 is coming to an end, and we hope you had a great year.
🗓 Calendly Integration
Introducing Calendly integration. Allow people to book a meeting with you directly from your Peerlist profile.
Due to the pandemic, we can't open our doors, but we can at least open our calendars to meet new people. Mostly networking is about meeting new people and engaging with them. To do so, you need to be accessible to them.
---
🔍 Peerlist Search
Now, you can search people on Peerlist by their names. We will also release constant improvements to this in our following releases.
---
🔃 Reordering Portfolio Sections
This was the most requested feature where you wanted to reorder the portfolio integrations. We understand that the current order is not suitable for everyone. So from now on, you have the power to customize it.
---
⭐️ Dynamic Social Preview
When you share your profile over any social network or messaging, the recipient can view brief information about you without opening your Peerlist profile.
---
🐞 Fixes and Improvements
✅ You can add AngelList and Behance to your social links.
✅ Infinite loading issue while saving basic profile for some users.
✅ UX improvement to profile published modal.
✅ On mobile, the page gets zoomed in when the user tries to enter inputs.
✅ Allow googlebot to crawl Peerlist profiles.
✅ On-page SEO improvements.
✅ UI fixes for the profile header section.