Discover more from Peerlist Blog
New features, company news, commentary around the professional network, career, and proof of work.
Over 17,000 subscribers
Peerlist Monthly Update: April 2022
We are introducing Gumroad integration, improved Peerlist Scroll, a new Peerlist Blog, and much more!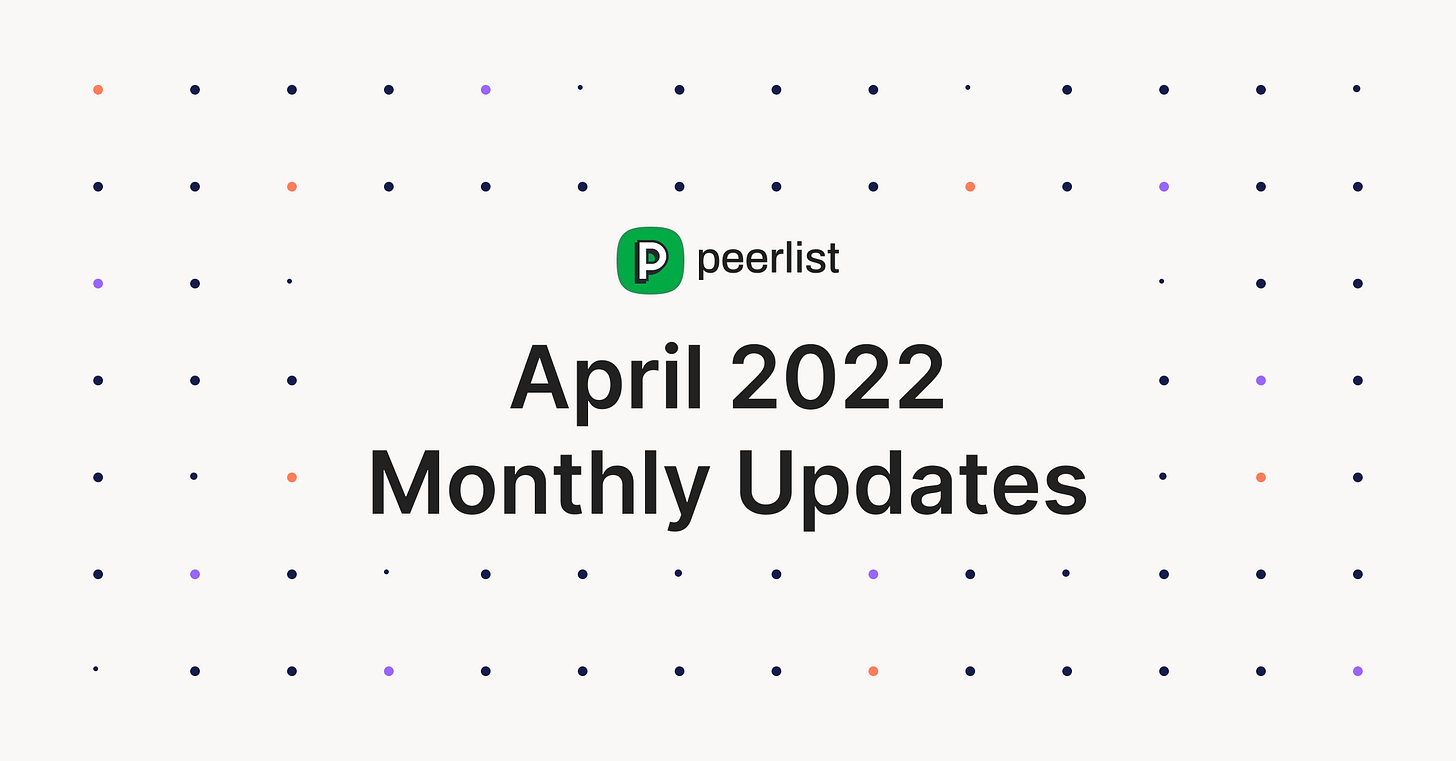 As Peerlist grows, our overall activities in a month are also increasing. So instead of just writing a changelog, we decided to share monthly comprehensive updates about Peerlist as a community!
Let's start with some significant product development.
🤝 Announcing Gumroad Integration
One of the most requested integrations by our users, who are indie creators, is Gumroad. This integration will enable these creators to showcase their digital products and services on their work profiles and reach a target audience.
Check Gumroad integration in action on none other than Shruti Balasa's Peerlist profile.
---
🔥 Advancements to Peerlist Scroll
Content feed is one of the biggest problems of existing professional networking platforms. There is a lot of noise than signal due to irrelevant content getting shared.
We are applying some out-of-the-box thinking to Scroll. To keep the content professional and relatable to the professional context of Peerlist, we are bringing four types of templated posts (opportunities, books, URLs, and events) that you can share with the Peerlist community.
Apart from this, from now on, you will be able to better interact with people by mentioning them in posts, comments, and replies. It is another step toward networking! 😊
---
🧰 Fixes & Improvements
Improved image rendering

Better search results for search by first name and last name

Improved search for verified profiles

Fixed hover issues in the projects section

Fixed Dribbble integration failure for some users

Added notification time on every notification card
78 more fixes and improvements which we can't share 😛
---
✍️ Hashnode now powers Peerlist blog
Hashnode recently launched Hashnode for Teams. We just grabbed the opportunity to host our company blog there. As a small team, we wanted something plug-n-play for our blog and Hashnode suits our needs at the moment!
Soon we will be inviting guest authors to contribute to our blog. Get in touch with us if you want to write something which will add value to Peerlist members!
---
🗓 Misal Meetup
This month we hosted one of the most talked-about events in Pune. Misal Meetup! More than 140 amazing folks from startups and colleges attended the meetup on Sunday 24 April. We will be hosting such meetups more frequently now
---
Peerlist Weekly Chat Session
We will be actively organizing online sessions on various topics like engineering, career, design, product, etc. where you will get a chance to learn from the industry experts. The latest session will be conducted by Yogini herself on How Peerlist Creates Dynamic Social Previews.
How Peerlist creates dynamic social previewsOne of the most loved features of Peerlist is its dynamic social previews, the ones which get created when you share your Peerlist profiles. I always...lu.ma
---
💬 We have a Discord Server
If you want to actively help us build Peerlist, join our Discord server. The Peerlist team proactively responds to feature requests, bug reports, and questions there. We also brainstorm many ideas, conduct user surveys and do UX reviews. And yes, you know in advance when and what new features we are releasing! 😉
---
See you next month! ✌️