Peerlist Monthly Update: August 2022
This month, we are introducing Peerlist Hire, RSS Integration, a new website, an email signature generator and much more.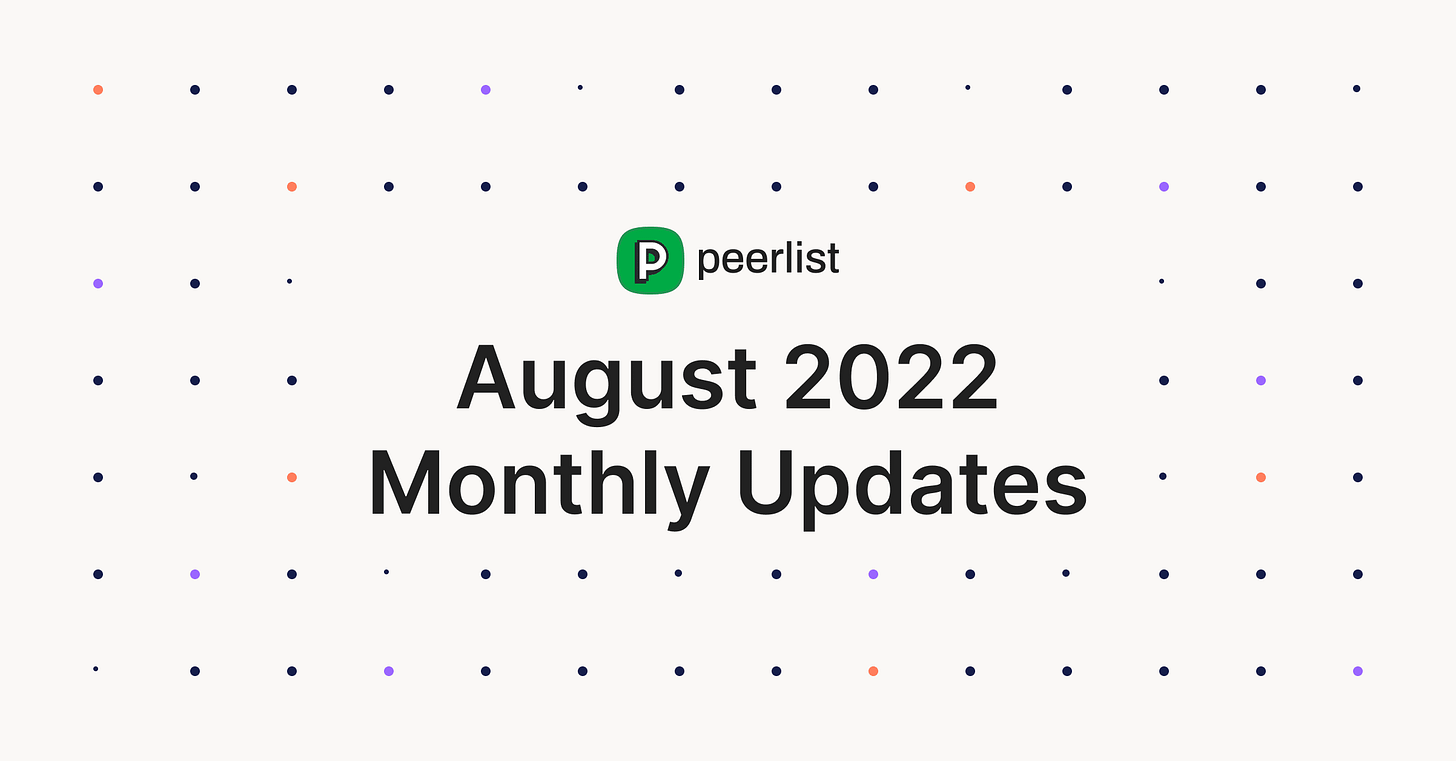 There are so many new things to share updates. I hope I will be able to cover all of that in this single post 😃. The team is working tirelessly to build and ship these unique workflows to make Peerlist a better place for professionals to hang out.
Introducing Peerlist Hire
We are taking one significant step towards building a true community of professionals. We proudly announce our most important vertical, Peerlist Hire.
Peerlist Hire is a way to change how companies hire; candidates can find jobs and get hired. With Peerlist, companies can hire the most credible people with proof of work profiles. And we have taken our first step in that direction.
Know how to get a recruiter profile.
---
RSS Integration
Many of our senior professionals are self-hosting their blogs and not using any other publishing platforms. So many of them asked us to introduce a way to showcase their blogs on their Peerlist profile. So here we are; introducing RSS Integration.
To connect your blog via RSS, you need to share the feed URL, and we will take care of the rest (as always 😉).
---
New Website
A fresh look-n-feel was required for the Peerlist website to reflect these new and significant changes. This revamp was essential to communicate our bigger and broader vision for Peerlist.
---
Email Signature Generator (Peerlist Tools)
Now you can create your custom email signature with a few clicks using your Peerlist profile data. We will be adding a few more tools in the upcoming months. Rishi Purwal builds this tool during his internship at Peerlist. Good work, mate!
---
Learn the foundations of Javascript
We're so excited to be partnering with Pesto for the 30-day of JavaScript Challenge starting on the 22nd of August ✨
📝  Here's the plan:
Learn the foundations of Javascript via Livestreams with Pesto Alumni.

Practice concepts with simple structured exercises.

Build functional projects by the end of the Bootcamp!
And it's 100% online and free.
Get all the details here and register for event alerts, live-stream recordings, and resources: https://bit.ly/learn_javascript_with_pesto.
---
💼 We are hiring!
Peerlist is hiring for two full-time positions
---
🧰 Improvements & fixes
All fields in job preferences are optional now. We will recommend your profile to the recruiter based on the available information.

Filter jobs by role, skills, location, remote only and job type.

Ability to save jobs.

Apply w/ Peerlist: Quick apply to jobs (subject to recruiters has enabled it) using your Peerlist profile.

You can now see all the jobs you applied for on the Jobs page. This is available only for "Apply w/ Peerlist" job posts.

Recruiters can add Hiring Manager to job posts.

Recruiters can shortlist and reject applicants who applied directly via "Apply w/ Peerlist."

On the job details page, you can now see the people working in that company. Easy to ask for a referral and know who works there.

Show similar jobs on the job details page.

Share job post on Peerlist Scroll with preview.

Redirect logged-out users to the website.

Redirect logged-in users to Scroll instead of the website.

Frequent log-out issue.