Discover more from Peerlist Blog
New features, company news, commentary around the professional network, career, and proof of work.
Over 17,000 subscribers
Peerlist Monthly Update: January 2023
Introducing an effective way to share content on Peerlist scroll, verified profile badge, promoted badge, and more.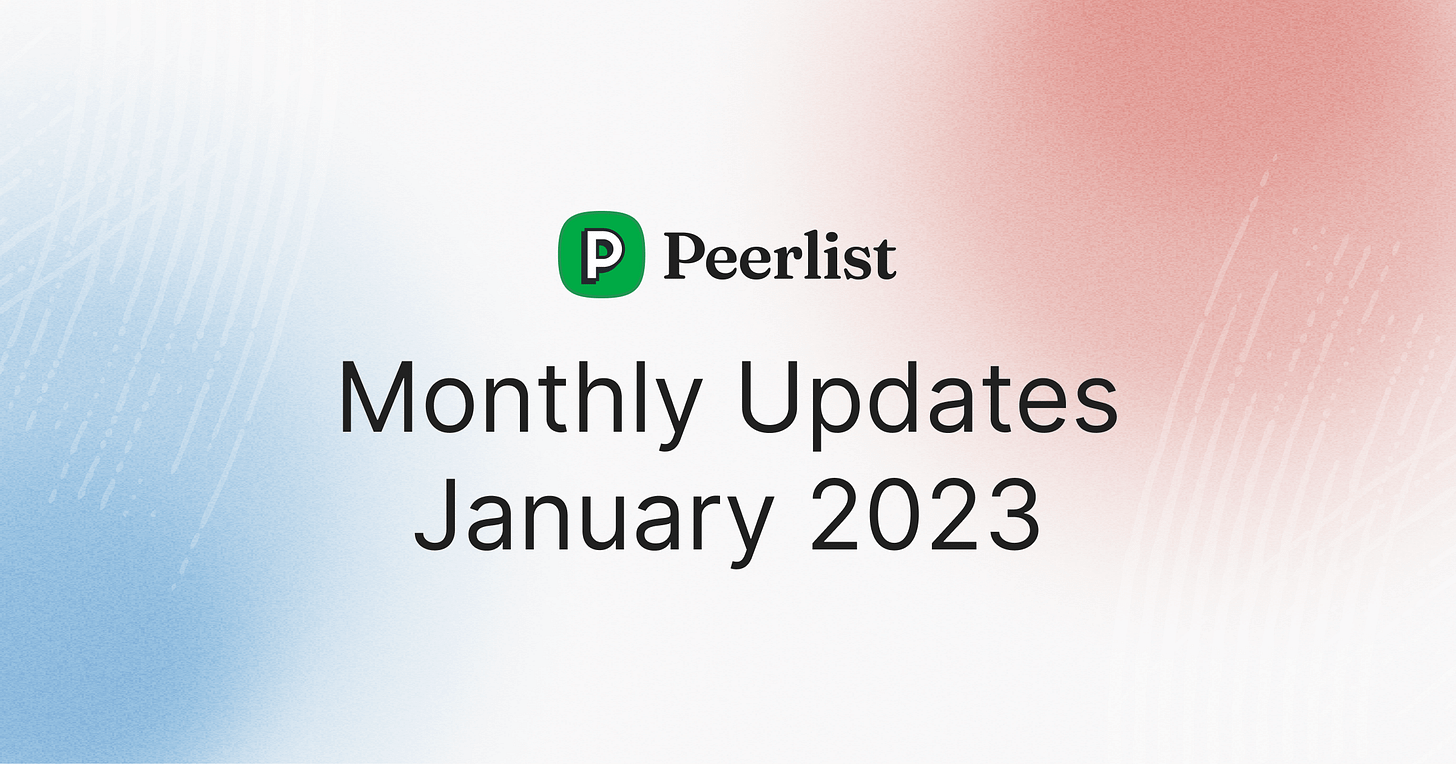 Hey Everyone! 👋
After announcing our $1.1M fundraising and getting featured in TechCrunch, we are back to building!
We promised to deliver big in the first quarter of 2023. And we're not making empty promises! Brace yourselves for a massive January update, as we're starting the year with a huge impact!
Let's get started with our January updates:
🎥
Starting this month, we will also share product updates in video format. We will give you a walkthrough of all the new features and improvements and convey why we built what we built that month!
---
🚀 Huge Improvements to Scroll
We simplified the way you communicate and share your work on Peerlist Scroll. Now we have 3 main contexts under which you can share things.
1.  Show 💡
With #show context, share your latest projects, open roles if you're hiring, shout out your latest blog posts, promote upcoming events, make important announcements, and so much more. Put your best work on display and connect with a community of like-minded professionals.
2. Ask 🙋
Peerlist is a community of professionals where people adds value to each other. #ask context enables you to ask questions to the community, get help, and collect feedback and opinions. I personally use it to ask questions about our next features and make informed product decisions.
And here's the best part, #ask context now comes with a poll feature, so you can collect both qualitative and quantitative feedback 😃!
3. Books 📚
As one of Peerlist's most popular contexts, sharing books with the community got even better. Now, you can recommend and share your thoughts on books with the community and easily let everyone know if you're reading, have finished, or wish to read a book in the future 📚👀.
---
✅ Verified Profile Badge
Peerlist values credibility, and we want to emphasize that. That's why we now display a verified badge next to each user's profile picture. This helps build trust and confirms the authenticity of the community and our platform.
This simple addition reinforces Peerlist's commitment to fostering a trustworthy and credible environment.
PS: We introduced education verification for students last month.
---
⭐️ Promoted Badge
Get ready to showcase your career success like never before!
With Peerlist, you can now add a new role to your profile and proudly mark it as a promotion.
Watch as a sparkling "promoted" badge shines beside that role, highlighting your professional growth and accomplishments to the world. It's time to let your hard work and dedication take center stage!
---
🧰 Fixes and Improvements
[Improv] Show link preview when the user shares a link in Inbox.

[Improv] Show the correct verification modal based on work experience or education to be verified.

[Improv] Now, you can share any scroll post on Twitter, LinkedIn, or any other social media by copying a URL.

[Improv] Comments sorting on posts based on newest and oldest.

[Improv] Emoji support while adding comments/replies on posts.

[Improv] Keyboard support (cmd/ctrl + enter) to submit a comment/reply on the post.

[Improv] Show click count for calendar link under profile analytics.

[Fix] List style not visible for job description.

[Improv] Non-logged-in users can also see the Scroll posts now.

[Improv] Add an amazon search link when a user shares a book on Scroll.

[Fix] YouTube embed player will appear for all the YT video URLs.

[Improv] Now, you can see open roles and positions on Scroll.

[Fix] Could not delete Substack after adding incorrect username.

[Improv] Loading state for Peerlist Scroll.

[Improv] UI and accessibility for mobile devices.

[Fix] Unable to edit resume sections on some mobile phones issue.

[Fix] Odd Tooltip styling.
---
Go and check all these amazing new features and improvements by yourself.