Peerlist Monthly Update: May 2022
It was a super exciting month for everyone at Peerlist. We had a successful Product Hunt launch and some product updates!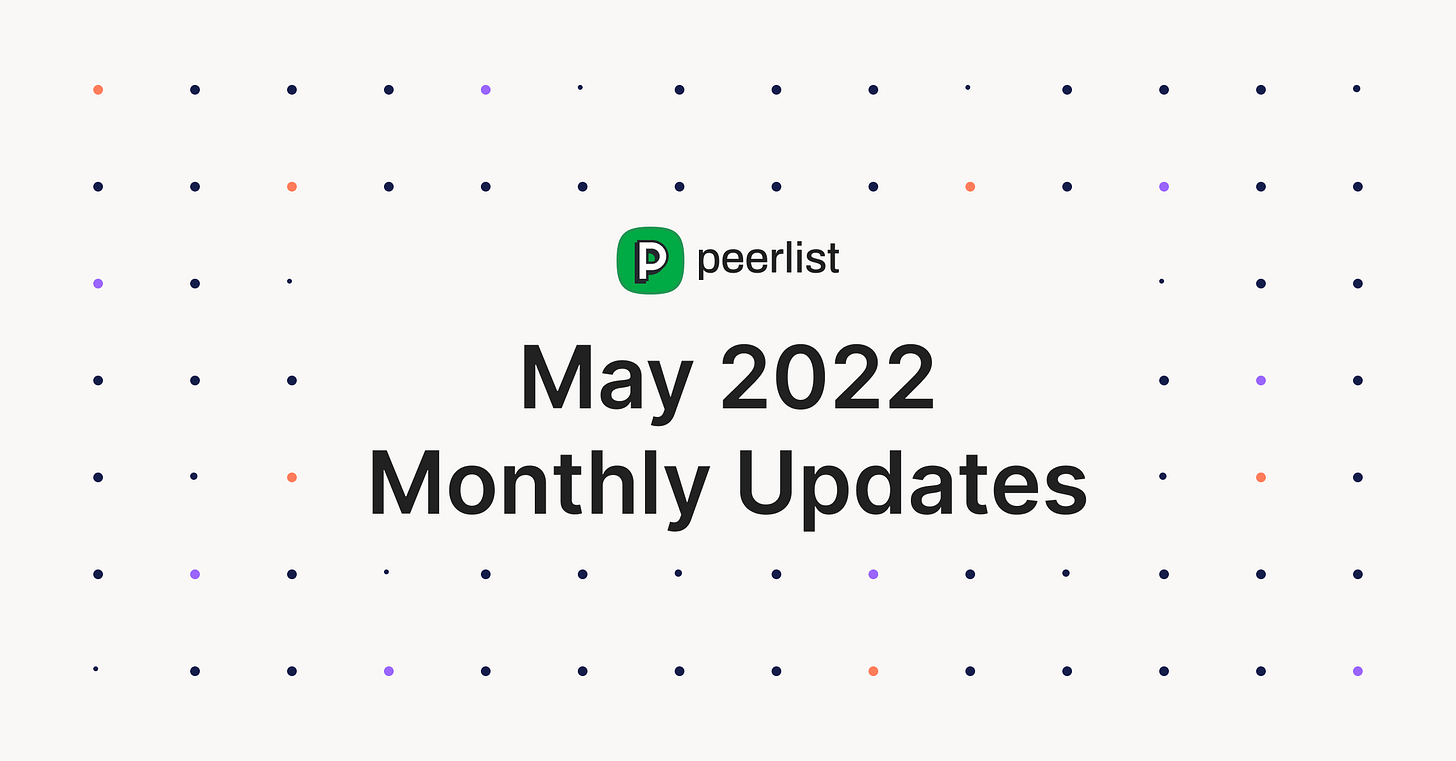 🥇 #1 Product of the day
Yes! We launched Peerlist on Product Hunt on May 24 and ended up being the #1 product of the day on 24th May 🎉.
While doing the Product Hunt integration, we realized that it's pretty natural to go and launch Peerlist on Product Hunt ↗. And we did it. What an exciting day it was. We will write more about that in a separate blog post. Stay tuned for that.
---
🎙 Peerlist Mindset
We're thrilled to announce Peerlist Mindset! A series of conversations with the leaders of different industries on topics from engineering, design, leadership, career advice, and everything in between! Our first episode was with none other than Syed Fazle Rahman, co-founder, and CEO of Hashnode ↗ The recording will be available on our YouTube channel soon!
---
🧰 Product Updates aka Changelog
😻 Introducing Product Hunt Integration
We observed that many amazing founders, indie hackers, and creators have joined Peerlist. Most of them have built and launched amazing products on Product Hunt. And that's the proof of work they wanted to showcase on their Peerlist profile proudly. This helped us to prioritise our Product Hunt launch. This is how your products from Product Hunt will look like 👇
---
📝 Slicker Peerlist Profile
While talking to some of our super peers, we received feedback to improve the readability of blog sections (Medium, Substack, DEV, etc.). After going through multiple designs, we settled on this.
These advancements undoubtedly improve readability and make your profile look much cleaner as the focus is shifted toward the title of the article and not the feature image.
---
🛠 Improvements and fixes
We have introduced job preference settings ↗.

You can verify your Github integration with OAuth.

While adding an experience, now you can add the company name manually if you - don't find it in the select dropdown.

Fixed the Show Less button becoming invisible for some integrations and project sections, for some user profiles.

Rearrange portfolio button will be only available when more than one integration is added. (Obviously 😬)

Fixed Medium blog not found error for Medium integration.

Fixed certificate date for some users.

Fixed the issue of sharing a post on Scroll from the Peerlist profile. Now, you don't need to refresh the page when you share a post.

Fixed automatic scrolling issue on the Scroll page

We noticed that Books API was not showing many books when you want to create a book post on Scroll and we have fixed that!

Fixed the mismatch of dates on the event cards for Scroll.

Fixed broken profile visit graphs for the Profile Analytics page.