Discover more from Peerlist Blog
New features, company news, commentary around the professional network, career, and proof of work.
Over 17,000 subscribers
Resumes are dead. Really?
New resumes are the combination of good networking and portfolios and have become the need to thrive in corporate now.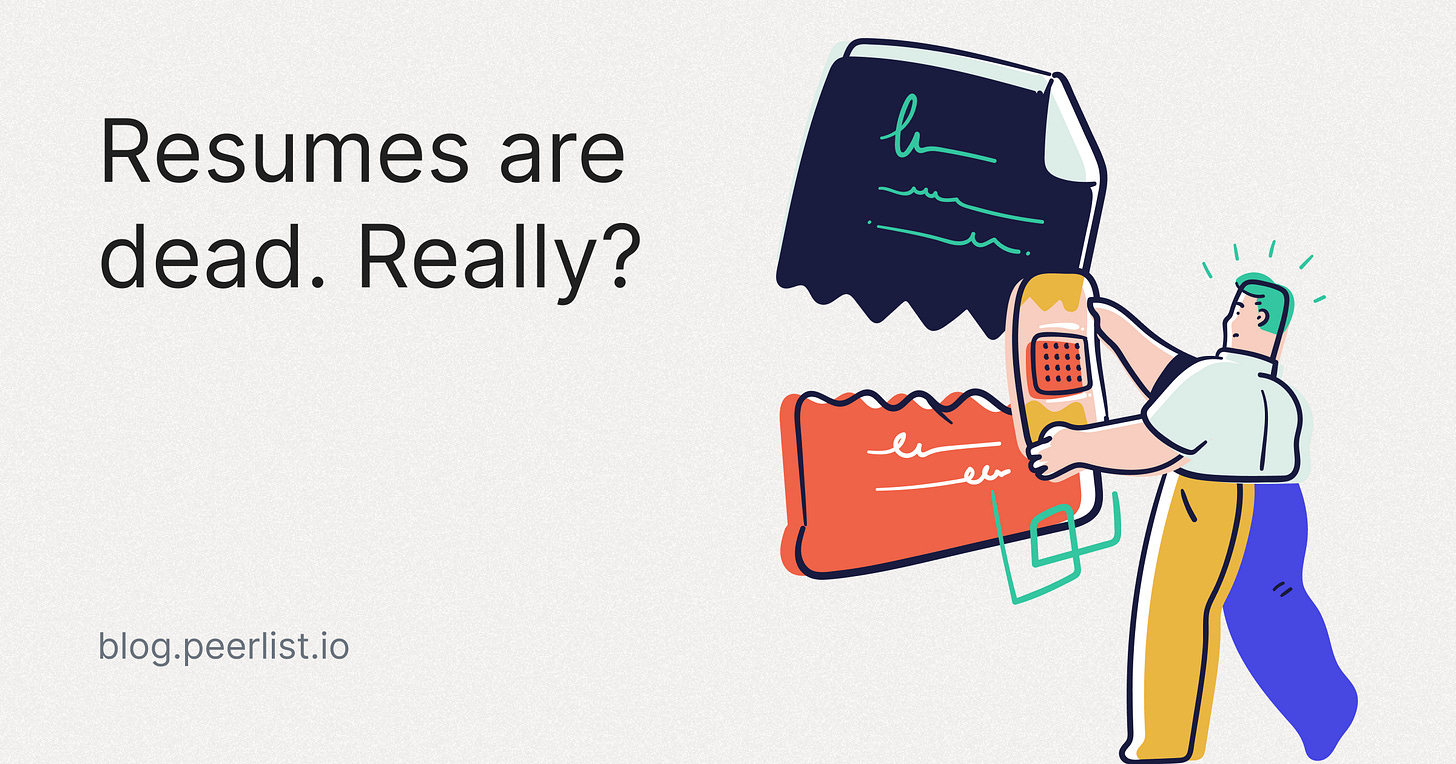 When we are in college, we believe in many things that our peers feed us. Then, we enter the corporate world with many expectations and find out how small we know about that world - believe me, it happens to the best of us. We go like we are the best and leave the place feeling like zero - put next to one, and we will be ten, but three of us together next to one, and we will be a thousand. Zero is almost always good.
By cosmic design, we are bound to be biased about traditional growth and ecosystem - I still have a one-page resume saved on my laptop & 3 A4 prints of the same in my portfolio. Recently, I worked on different projects but did people I worked with ask for my resume? No, they did not, and that made me wonder - Have resumes become the necessary paper that everyone should have but ain't the sufficient one anymore?
Do you know resume writing is a skill many of us get paid for? I was doing my first internship, and my manager told me how I could put what I learned a day before in a fancy way in my resume and can make people believe that I'm smarter than them.
For example, Samosa (yes, our samosa) is called "a triangular savoury pastry fried in oil, containing spiced vegetables" in a fancy restaurant where we pay more than 200 rupees for that costs like 20 rupees at most. I would rather spend those 200 rupees on one samosa and one plate of tandoori momos - way better taste, and at least I'd not get one hour lecture from my parents.
So, Let's see how the importance of resumes has changed over time.
Old Resume Vs New Resume
Resumes used to be sufficient documentation to get an interview. Psychology to hire a perfect candidate has changed over time, which made the resumes a necessary document to record the past in the shortest way possible but what intrigues the recruiters is the story behind the mentioned details of candidates.
Resumes have become more like tea (chai) - everyone wants it, but it's not enough to serve guests; snacks (portfolios) become essential here, some might get satisfied with tea only, but snacks are always good complementary.
Recruiters are more interested in knowing why you succeeded in a particular project or why you think you failed to complete a project. The psychology of judging candidates based on what a paper shows have changed into any possible window they could get to listen to the story a candidate wanna tell, and that's where networking and portfolios work their magic.
The target for most talent acquisition teams is to find the candidates having a "growth mindset", and that's how portfolios containing the projects get more views and success rates than resumes only.
So, do we still need a resume to get an interview? Probably yes. But would it be enough to get an interview? No. Resumes have become a data collection practice rather than a decision-maker practice.
But if resumes are not sufficient, then what has replaced them? Let's understand that now.
Old resumes are no longer the "need" but are a "necessity". New resumes are the combination of good networking and portfolios and have become the need to thrive in corporate now.
Stats - Numbers Tell A Story
Let's discuss some numbers before diving into what, why, and how.
Recruiters take ~6 seconds to scan the resume - a study by The Ladders.

83% of jobs require social skills - a study conducted by The State of the American Job Report Pew Research October 2016.

37% of hired candidates are from diverse backgrounds, which means networking is one of the factors why they got the opportunity in the first place - a study done by LinkedIn Global Recruiting Trends.

Referrals are 5 times more effective than any other hiring source - mentioned in Jobvite 2017 Recruiting Funnel Benchmark Report.

80% of professionals credit their current job to networking - mentioned in Jobvite 2017 Job Seeker Nation Study.
Why Networking?
Networking has become like bread (chapati, etc.) - rice is nice, but we consider our meal incomplete without any bread, and well, nobody likes an incomplete meal (at least, I don't).
Networking has taken the stage now. According to CNBC, around 75% of new jobs are never listed because they are filled through networking; there is a whole hidden job marketplace for you to explore only if you know how to network.
The close rate for meetings is more than 60% if both parties have good connections. Understanding each other before establishing any business relationship is essential for sustainable growth.
Surfing the net is not the solution anymore. Talking to relevant people and making connections and friends is the new way to enter the workplace. 40% of new hiring is based on referrals - showing your work and networking has become the most effective way to get hired.
The best way to network is to ask questions. Akash has already talked about this in one of the blogs; check it out if you haven't already - Don't underestimate the Power of Asking.
If I have to tell one proven fact about human nature that can solve 90% of the problems you will get across while networking is that everyone loves talking about themselves, and if you want to make solid and lifelong networks, then listen more and talk less should become your new mantra.
I connected to at least 7 to 8 startup founders in less than a month because of networking.
Patience is the key to multiple locks, from making your portfolio better to getting hired through the networking you have done.
That being said, the above is true for jobs like tech-related because you can have a portfolio to show, social media marketing, and writing. Still, some traditional jobs need resumes as a sufficient and necessary document, like CAs getting hired in MNCs, but networking and referrals are still relevant in those industries too.
Now that we have an idea of how things are changing in the job marketplace let's see what are the problems a candidate goes through while applying for jobs.
Struggles of a candidate
Most candidates struggle with multiple problems such as:
Showcasing their work from different platforms - Sending online projects, blog links, etc. get hectic for both candidate and recruiter.

Sending resumes through email only to be a part of a pile of unread emails a recruiter has.

Getting connected to relevant recruiters through social media platforms.
Peerlist has become the solution for all three problems and a wise choice to connect over a call with recruiters as soon as possible.
Okay, I'll be honest about what feature I like most on Peerlist: the fast feedback. People like me who struggle with imposter syndrome daily are in dire need of feedback - that's how I convinced myself to make a Peerlist profile but couldn't make a LinkedIn profile.