Discover more from Peerlist Blog
New features, company news, commentary around the professional network, career, and proof of work.
Over 17,000 subscribers
Some Old School Resume Makers With A New Addition
Some of the easy, simple, and useful resume makers.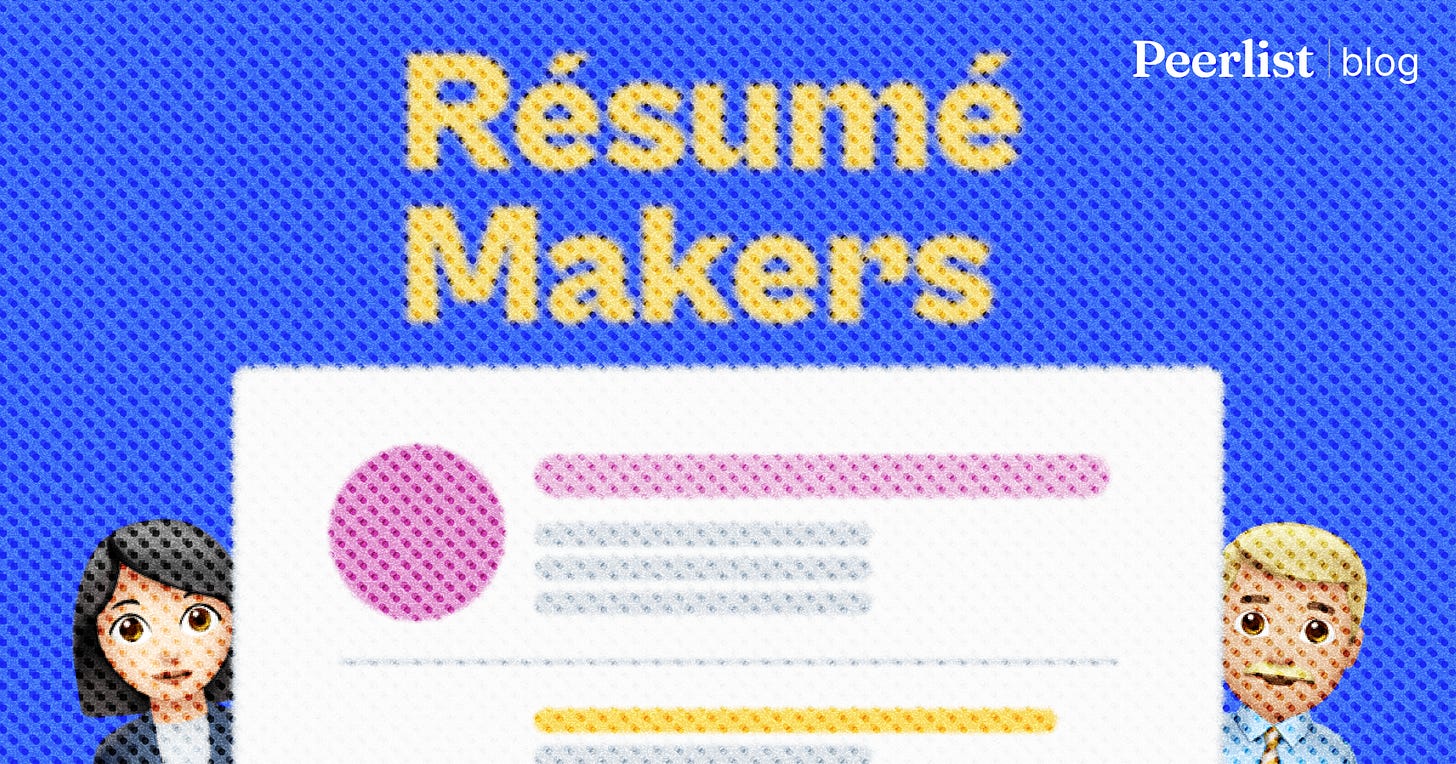 You have discarded the old ways of building a resume. But what's next? Everything is online which means you have plenty of options to choose from. But why still make resumes?
Do you know "resumes are dead?"
But by any chance, if you are looking to use resumes, here is something for you. I decided to go through the process of building my resume instead of presenting you with 100+ options to choose from - I added some fake details and skipped a few steps.
Here are a few resume makers I consider good enough to go through. But hang on, that's not it. What if you get one tool that solves your multiple problems? Keep reading to find out what I am talking about.
You enter your details one time and can select any template from the various given. Some features are -
You can add a section.

It's modern and colorful: they have minimalist templates too.

You can edit the formatting, but even the default one is clean.

This is also a good cover letter builder.

You can download your resume with a click.
Here are some other resume makers that look like LiveCareer means they have different resume templates but are similar to LiveCareer in functionality or process.
They take you through the same steps.

They show you similar sections.

Hence comparable time to build the resume.
You can see various resume templates below. You can customize whichever you like and make resumes for different opportunities.
I selected the traditional template while making this resume.
You can check out the review score on the right side of the page. This shows what's pending and what more you can add to make it better. Plus, you will have to upgrade to download the resume.
Check out the skills section. You can add the rating according to your proficiency. You can download it with one click.
This one is a bit different than what I mentioned above. With a graph mentioned in the CV, it has been made a bit visual. Some of the patterns are similar, but it's still unique.
It's the easiest one.
You choose the template.

Edit the details.

Next, download the PDF and be done.

You can download your resume in different formats as well.
It used to be everyone's go-to resume builder before COVID. We all either used templates from MS- Word or Canva.
Now, let's talk about the one tool that can solve your multiple problems. It's an alternative to resumes altogether.
Building projects are a necessity for a developer and a designer, but how do you showcase your project in a resume?
That's what Peerlist does for you.
You enter your details. You have a resume if you want only that.

If you want, you can import your LinkedIn profile as well.

Do you build projects? You have a platform where you can showcase that.

Do you want to add your blogs and GitHub contributions? Yes, Peerlist is your answer.
Call it a simple resume, a developer portfolio, a designer portfolio, or a complete portfolio. It's your choice.
Bonus - You can apply to jobs from the Peerlist itself.