Discover more from Peerlist Blog
New features, company news, commentary around the professional network, career, and proof of work.
Over 17,000 subscribers
Streamlining Your Peerlist Profile: Tips for Efficiently Adding New Projects
You have put effort and built a project, but how should you promote a project that can give you a chance to show it to the world? Add it to your Peerlist Profile!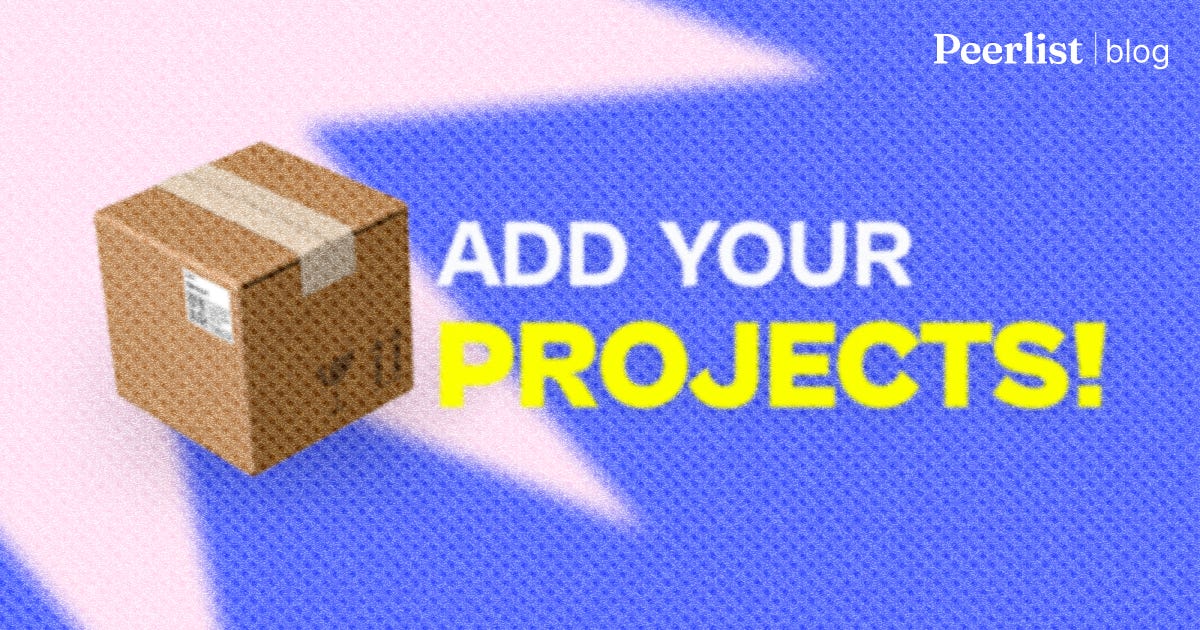 In 2003, Ryan Carson, the founder of Treehouse, was working on a web design project and needed a way to share large files with his clients. He created DropSend, a simple file transfer service that allowed users to send large files without filling up their email inboxes.
Despite its potential, Carson didn't actively promote DropSend and it remained a side project for several years. In the meantime, other file transfer services like Dropbox and WeTransfer gained popularity and became dominant players in the market.
It wasn't until 2014, when Carson sold his web design training company, Treehouse, that he decided to devote more time to DropSend. However, he was late to the market.
This shows the importance of promoting and showcasing a side project at the right time to ensure that it gains the attention and recognition it deserves.
You have put effort and built a project, but how should you promote a project that can help many and give you a chance to show it to the world?
Add it to your Peerlist Profile!
Peerlist Projects allows you to showcase your project. While also guiding you through the template that can save you effort!
Project Spotlight for the month of April is live! Hurry up, launch your side project there. Only 10 spots are left!
You can find "My Projects" in the Portfolio Section of the profile!
Here is the guideline that you can follow to fill in the details of the project!
Project Name -
The name should be something that can describe precisely what a project is. It should be catchy and easy to remember.
For example - Scattr is a cross-posting tool. The name of the project makes sense when you look at the objective of the tool.  
Tagline -
It should be objective oriented.
For example - the tagline of Algochurn is - "Ace your next technical front-end interview round with ease" which gives the clear WHY of the project!
Cover Image -
The cover image can be a logo or a preview of the project. For example - the cover image of SignLanguage shows what it does.
This will help your project stand out and make it more recognizable.
Project Link -
We would recommend you not skip this step. You can choose one of these -
Enter the URL of your project's website in the field.

If your project is open-source, you can provide a link to the project's GitHub repository.

You can add your case studies' link too!

If you are a designer, post the link of your Figma file or Behance, etc.

Add any link which can show users some demos.
Adding a project link is a must for getting the deserved appreciation and feedback.
Project Tags -
Enter any relevant tags for your project. Tags can be used to connect with peers from the same community or with the users of the project!
It will help other users find your project based on specific keywords.
For example, you can add the stack you have used to build it like Javascript, ReactJs, etc, or the targeted audience like Product designers, Engineers, etc.
Collaborators -
Mention all the collaborators, and if any of them are not on Peerlist, then send them an invite and mention them in the "About the Project" section.
About the Project -
Enter a brief description of your project. This can include -
An overview of your project.

Include what it aims to achieve.

How does it work?

How to use the project efficiently to get better results?

How you searched and came up with this idea?

The challenges you faced while building this.

Who helped you and what articles/tutorials you followed?

Your learnings.

Your plans regarding the project.

You can keep updating the progress of the project as well.
Get the feedback, implement it, and showcase it!
---
For more details, please read the FAQs and guidelines for builders and the community.