Discover more from Peerlist Blog
New features, company news, commentary around the professional network, career, and proof of work.
Over 17,000 subscribers
Tips to stand out in an interview
You are all set for the interview, but every time you are done with the interview, you feel you could have done better. Let's learn how.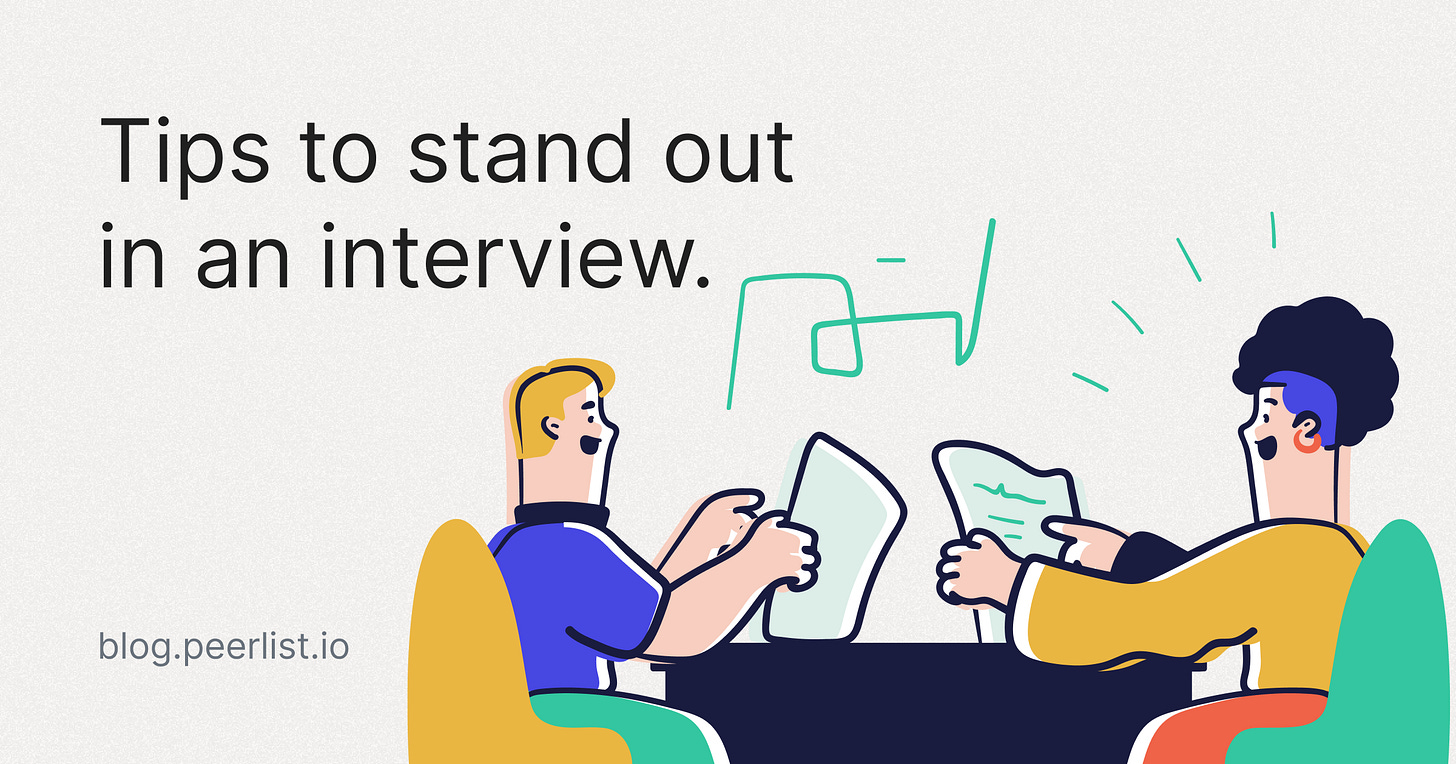 All of us know at least one person who cracked that particular interview which seemed like out of their league but they did it somehow. Some of us will name it some kind of luck or faith but it's the small things that a particular candidate does during the interview that matters.
If you are sitting for an interview that means you have the basic skills like all the other candidates. You need a pinch of salt that will make you look different but good and better than others. You need that spark, that 'oh, this is the good' moment and you will leave a mark after the interview.
I won't lie I always try to have that moment with everyone I meet. It makes me feel that I live longer in their thoughts than others and this is what counts. So, when I get that moment during my interview - it's like voila, new level unlocked.
So today we are here to get to know more about how to stand out in an interview.
Before diving into what works, let's understand what doesn't.
Wrongs you should avoid at all cost
Let's see what we should not do during an interview.
Not preparing for the generic questions all the interviewers ask.
For example, tell me about yourself - the answer should contain the information related to you that is relevant to the role you applied for.

Tell them about those skills that you are comfortable talking about.

Give them the topics they can ask questions about and you can respond with confidence.
Not researching about the company and the role.
Try to understand what the company is about and what they are currently working on, be updated on the latest tech they are using, and ask them relevant questions.
Not talking about the contribution you made.
Talk about the ways you have contributed to the community, and organization and not about the general duties that come with your role.

Use data to show credibility. Tell them how your organization improved _X times with your contribution.
Not taking time before responding.
I have seen this firsthand and observed how annoying it becomes for the interviewer as well.

Take time before responding. Listen to the whole thing. Take time to formulate your response and then respond gracefully - remember, there is no hurry to complete the interview.
Not asking any questions.
I have done this mistake plenty of times. Please ask questions. When you sit for an interview, you automatically get dozens of questions, filter them out but ask relevant questions.
For example -
What does a normal day look like for this role?

What are the qualities you are looking for in a candidate for this role?

What's the company's culture look like?
Not talking about real-life projects.
Talk about real-life projects and how they have impacted the organization or people around you.

Showcase them and link that project with the current role in a way.
Not being honest.
Don't tell the interviewer that you have saved the world if you only saved an ant. Be honest.
Now, that we have seen what are the mistakes we are making and a way to avoid them, let's see what are the to-dos for standing out in an interview to get your first job in tech.
Practical tips and tricks to stand out in an interview
Listen and understand what the interviewer is asking:
If there is one thing that people have been taking for granted for decades both in professional and personal life, it is listening skills.

Communication skills involve both listening and speaking skills. So focus on listening and only then speaking.
Storytelling is important:
But don't get lost in the details that are irrelevant to the applied role.

Try to be precise but relatable.

It should feel like a long project summed up in 2-3 mins of storytelling, mentioning the important parts but leaving some parts to make the interviewer curious.
Keeping them scoped on your strengths and your skills:
Give them information regarding your strengths so that they abandon their predetermined questions and ask you about the things you are most comfortable with.
Pace yourself:
Take pauses and check in with the other person if you all are on the same page.
Changing the interrogation into people having a conversation:
It is one of the important steps. Every interview is one kind of interrogation, so your task is to turn it into a normal conversation. But how would you do that?

Ask questions.

Don't only respond, ask them questions and give them a chance to talk about the company, role, etc.
Don't hesitate if you don't know the answer to a particular question:
Take time, understand the question and give them the best possible answer you can think of.

Tell them why you think what you think, how it is possible, and what could be the other possible result that you are not 100% sure of.

Be focused on your experience and prepare a good self-review.
Provide your opinion on different topics if asked:
Don't hesitate. Hiring managers look for candidates who can lead a team and have some strong base opinions.
Bonus Tips:
Understand that hiring managers are not looking for the perfect code or the design, they are looking for the following mentioned:
Your experiences - what kind of projects you have worked on?

How you solve a problem.

Your technical skills

Your collaboration skills
So, prepare accordingly.
If a company weighs collaboration skills more, then talk about the projects where you collaborated more, similarly, if a company weighs how you solve a problem more, then talk about that project where you showed your best problem-solving skills.
Tailor your responses according to the organization you are applying for.